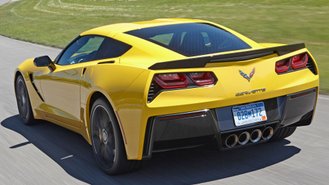 Consumers looking to save a ton of cash on the outgoing C7 Corvette may be in for a surprise in March. According to a bulletin sent to dealers, the model is no longer eligible for GM Supplier Pricing. As a result, buyers may experience a big difference in savings compared to offers within the past several months.
Last month, 2019 Corvettes were eligible for Supplier Pricing plus a $2,000 cash incentive. In the case of a loaded Z06, the brand said consumers could save up to $8,338 off MSRP. This was noticeably worse than an offer last December involving Employee Pricing with nearly $12,000 in potential savings.
Now, Supplier Pricing is gone completely and Chevy is offering a choice between just $2,000 cash back or special financing at 0% APR for 72 months. Whereas past offers favored choosing cash incentives instead of low-interest financing and lease promotions, that's no longer the case.
While dealers can sell Corvettes for whatever prices they want, this may be a case in which 0% financing can save buyers a lot of money. With a $64,000 Corvette Z51, opting for 0% APR would cost $64,000 at $889/month before taxes & fees. With the rebate, a 6-year loan at 5% would cost $71,892 at $999/month.
That's a difference of nearly $7,900. Although we can't predict what offers Chevy will unveil next month, the automaker appears to be tapering incentives as the car becomes harder to find. A national search of inventory on several major shoppings websites reveals only around 1,000 cars still left in stock.
Based on our analysis, it appears the sweet spot for buying in terms of deals and availability was last December. With 2020 Corvettes yet to arrive at dealers due to a delay in production, consumers may find themselves playing the waiting game assuming they can get their hands on a C8 without a hefty markup.
Despite glowing early reviews, the first C8 rolled off the line just last month and the model isn't eligible for any incentives just yet. Depending on how things shake out, the car could be extremely hard to find in stock without a special order and initial lease rates can make the car more expensive than a Jaguar F-TYPE.
Current offers end March 31.