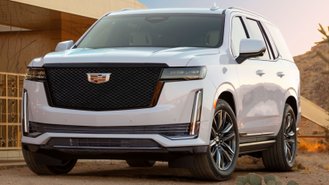 Cadillac buyers are paying big bucks to bring home the brand's newest SUV. According to figures from Kelley Blue Book, the average transaction price for a new Escalade in Q1 was $102,183. Interestingly, our analysis finds that the redesigned luxury SUV has managed to do so despite having no rebates whatsoever.
On paper, 2021 Escalade prices start at $77,490 with destination for the standard SUV and $80,890 for the larger ESV variant. Although it tends to be fairly common to see pricey option packages lift real-world prices on most luxury models, the average transaction price is almost $25,000 more than the vehicle's base price.
While big rebates on the Escalade weren't uncommon in the past, the latest generation hasn't benefited from any real discounts since its arrival last fall. Manufacturer incentive bulletins confirm that there are no rebates or APR deals to speak of in April and Cadillac's own website doesn't list any lease promos.
Meanwhile, the Cadillac XT6 features 0.9% APR for 72 months plus $2,000 in bonus cash. You can even increase that to $3,500 with a $1,500 conquest cash incentive for coming from a competitor. That's quite a difference compared to the Escalade, which Cadillac doesn't even bother to list in its online payment estimator.
Having said that, leasing could offer a surprisingly good value compared to buying. That's because the brand's leasing bulletin lists rates as low as 1.75% in the case of the Escalade ESV Premium Luxury trim. Believe it or not, that's actually better than the 2.6% rate you'll find on the same trim in the regular Escalade.
This isn't the first time we've seen quirks in how Cadillac markets the Escalade. When the all-new SUV was first introduced, we actually found lease prices were just $10 more expensive than the outgoing model. At the time, we found that this was largely the result of the now-sold-out 2020 Escalade's lousy residual value.
At the moment, we think it's understandable that luxury car shoppers haven't been deterred by high prices. Generous lease rates are one thing, but our initial review of the new Escalade made note of the model's impressive range of technology and immense improvement in interior quality compared to the previous generation.
Thinking of stepping down to a Chevy Tahoe or GMC Yukon? You may be disappointed. We looked at lease prices earlier this year and found both SUVs to be extremely expensive months after their launch. In the case of the Yukon, we actually found that lease prices approached the cost of a nearly $100,000 Lexus LX.