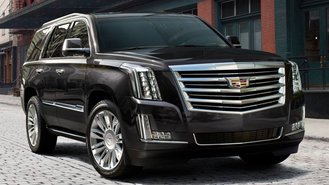 Cadillac is giving Escalade owners a big reason not to wait for the redesign of its largest SUV. According to a bulletin sent to dealers, the brand is emailing out up to $10,000 in loyalty discounts to get customers to buy the current model. With the latest incentives, our analysis finds the potential to save well over 25% off MSRP.
Program rules indicate select owners of a 2014-2017 Escalade are eligible for a $7,500 discount while current lessees get a whopping $10,000 bonus. The incentive can be applied to the purchase or lease of the current model. For someone buying a 2020 Escalade, this can equate to as much as $19,000 after a $9,000 rebate.
That's around the price of a small car and marks one of the largest discounts we've ever seen on an Escalade. However, it's important to keep in mind that this is a targeted email campaign that not every buyer will be eligible for. Having said that, those lucky enough to receive the offer will be able to snag a killer deal right now.
2020 Escalade prices start at $76,490 with destination and can exceed $100,000 for a fully-optioned ESV model. That makes it one of the most expensive vehicles sold by a domestic brand. With a $19,000 discount, eligible buyers will save nearly 25% off the price of a base model. But that's not all.
Shoppers may be able to save even more with dealer discounts. With a bit of negotiation, we think it's entirely possible for eligible buyers to save well over 25% off MSRP. But is a massive discount enough to get Escalade owners to buy now rather than wait for the newest version this summer?
The 2021 Escalade will offer styling akin to the XT6 and noteworthy features like OLED display screens, an optional 36-speaker sound system, and up to a 68% boost in cargo space. The vehicle will also gain a diesel option plus Super Cruise, the semi-autonomous driving system already offered in the CT6.
Offers end March 2.
Correction: This article originally stated that the loyalty discount is $7,500 for buying and $10,000 for leasing. The discount is actually $7,500 for current owners and $10,000 for current lessees and can be used when buying or leasing. Therefore, the potential savings for a current lessee buying a new Escalade is actually $19,000. We have updated the text accordingly.
Build & Price Your 2020 Escalade »
2020 Escalade pictured