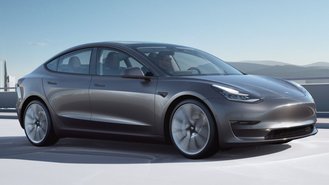 California's most popular plug-in rebate will soon exclude more EVs once new MSRP caps take effect next month. According to the latest program information, the California EV incentive will establish a $45,000 MSRP cap on passenger cars and $60,000 for trucks and SUVs in a sweeping set of changes on February 24th.
Popular cars like the 2022 Tesla Model 3 will remain just barely eligible for the $2,000 EV rebate. The 4-door sedan has a base MSRP of $44,990, just $10 below the new price cap. However, the CVRP does state that the Polestar 2 electric car and certain variations of the BMW i3 EV will no longer be eligible for the deal.
Specifically, the BMW i3s trim and range-extender models will no longer qualify. For reference, the cheapest 2022 Polestar 2 has an MSRP of $45,900 excluding destination. We reached out to a spokesperson from the California Air Resources Board for comment and will update this article once we receive a response.
Based on our analysis, most EVs and plug-in hybrids won't be affected by the changes. That's because most plug-in cars already start at less than $45,000. Similarly, vehicles like the Ford Mustang Mach-E and upcoming F-150 Lightning already start well below the $60,000 MSRP cap to get $2,000 in savings.
But that's not the only change set to take effect later next month. Separately, the CVRP will implement a lower income limit for higher-income applicants, bringing the maximum income for single-filers down from $150,000 to $135,000. This could enable the program to devote more resources to lower-income consumers.
Curiously, this does beg the question of whether or not Polestar, an offshoot of Volvo, will simply lower the Polestar 2's price by $901 to make it eligible for the CVRP. Other EV makers have already put an emphasis on affordability by cutting prices on vehicles like the Chevy Bolt EV and Nissan LEAF in the past year.
Next month's rule change will be the latest in a series of evolving requirements. In 2016, the Air Resources Board implemented income caps to exclude high-income earners. The MSRP cap of $60,000 came in 2019 along with a $500 reduction in rebate. Last year, a new range requirement excluded half a dozen plug-in hybrids.
Other EV and PHEV incentives are down, too. Last November, the California Clean Fuel Reward, or CCFR, was cut in half from $1,500 down to $750. While it does offer an immediate discount compared to the post-purchase CVRP incentive, the change could mean higher prices for buyers amid an ongoing inventory shortage.