EV buyers looking to custom-order the new Toyota bZ4X may have fewer options than they think. Although brands like Ford and Chevy have been encouraging consumers to place orders for their cars amid an inventory shortage, bZ4X buyers face some serious limitations if they want to be among the first to buy one.
Toyota doesn't offer factory-ordered cars and trucks, and instead sends dealers "allocations" of configurations based on regional data. A dealer will probably still be able to take your reservation based on your preferred 2023 bZ4X, but "ordering" one will be significantly different from a vehicle like the Ford Mustang Mach-E.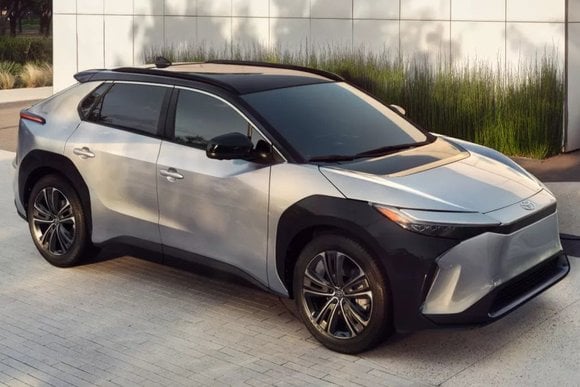 Even though Toyota's website offers the ability to "build" the bZ4X, a closer look finds disclaimers peppered throughout the configuration process. The first step states somewhat vaguely "limited inventory in your area," while another page says "vehicle builds may vary by location," adding "contact your dealer to find your match."
On the same website, the fine print states "2023 bZ4X available in select states only and in extremely limited quantities." However, the site fails to mention which states may or may not be able to buy its newest EV. CARB emission states are slated to get the bZ4X first, with national availability coming later this year.
Fortunately, there aren't a ton of bZ4X configurations and your choices are nowhere near as complex as a Tesla Model 3. Early Toyota incentives show that the bZ4X has low lease rates, though Tesla has better financing incentives. Alternatively, the related 2023 Subaru Solterra goes on sale this summer and could be worth a look.