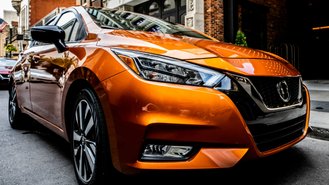 Although there was once a time in which you could buy a new car for around $10,000, the sad fact is that prices have risen over the past decade. For example, the Nissan Versa sedan — once one of the most affordable cars on the market here in the United States — now has a sticker price of $17,600 including destination.
At the moment, there are no new cars with an MSRP under $10,000. At $14,595, the Chevrolet Spark remains the cheapest car you can buy. However, there's also an important catch. If you look closely, that price is based on a base model with manual transmission. Choosing the optional automatic raises the price to $15,695.
Having said that, finding a car with great incentives could help lessen some of the sting. For example, the Spark currently offers 0% APR financing for 72 months, a deal you won't find on any Toyota or Honda. There's also the fact that the cheapest cars can be among the worst ones to lease mostly due to lower residual values.
In some cases, upgrading to a larger vehicle could be almost as affordable. For example, our analysis of the cheapest lease deals finds that a new Kia Forte has an effective monthly cost just $2 higher than a Hyundai Accent. In another scenario, Hyundai's lease on the midsize Sonata is just $15 more than the pint-sized Accent.
The downside is that promotional leases and 0% APR deals are limited to those with top-tier credit. With used cars under $10,000 hardest to find amid an inventory shortage, consumers may be faced with the reality that vehicles like the Versa that used to cost around $10,000 are now priced closer to $15,000 or even $16,000.
CarsDirect has a number of resources to help you find the right car for the right price. In addition to searching for cars by monthly loan payment, you can also shop by lease payment. Our monthly ranking of the best new car lease deals also features vehicles with amazing incentives that can help save you serious money.