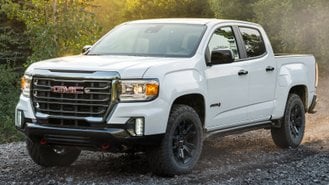 The cheapest truck lease deals in December involve monthly payments as low as $259/month. Pickups with the lowest costs to lease usually include incentives not everyone may be eligible for, but even newer truck models can sometimes have surprisingly good standalone deals.
Incentives like trade-in assistance cash, loyalty discounts, or savings called conquest cash when switching brands can help bring down the cost of your next new truck. Just be aware that the ongoing global chip shortage has caused an increase in prices due to limited inventory, and we expect the effects to last well into this year.
As a result, your ability to negotiate a great price with your local truck dealer may not be as good as you expect. Depending on your priorities, it may pay to wait a few months or place a factory order to get the truck configuration that works best for you.
Here are the cheapest truck leases by effective monthly cost in ascending order.
Vehicle

Advertised Lease Deal

Effective Monthly Cost

Region

Customize Offer

2022 GMC Canyon Elevation 4x2 Crew Cab

$279 for 39 months, $2,799 due at signing (Current Buick/GMC Lessees)

$351

National

Customize Offer

2022 Toyota Tacoma SR 4x2 4-Cyl Double Cab

$282 for 36 months, $2,932 due at signing (Estimated Payment)

$363

Southern California

Customize Offer

2021 Chevy Silverado 1500
Custom 4x2 Double Cab 2.7L Turbo

$259 for 36 months, $3,879 due at signing (GM/Non-GM Lessees)

$367

National

Customize Offer

2022 Hyundai Santa Cruz SE 2.5L FWD

$269 for 36 months, $3,699 due at signing

$372

Southern California

Customize Offer

2022 Chevy Silverado 1500 Limited
Custom 4x2 Double Cab 2.7L Turbo

$259 for 36 months, $4,349 due at signing (GM/Non-GM Lessees)

$380

National

Customize Offer