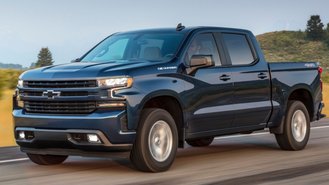 The cheapest truck leases in August continue to involve popular brands like Ford and Chevy. However, a nationwide inventory shortage has made it harder to find trucks with the lowest payments. As before, the cheapest leases on pickups are generally limited to easier-to-find configurations and equipment packages.
The 2020 Chevy Silverado continues to be one of the cheapest trucks you can lease thanks to a Sign & Drive special. However, the deal includes a discount you can only get when coming from another lease. Similarly, Ford's leases include a bonus that's only available on vehicles in stock for over 60 days.
For more great deals, be sure to see our ranking of the best truck deals and the largest discounts on trucks. We've also put together a complete list of deals and assistance programs related to COVID-19.
Cheapest Truck Leases
| | | | | |
| --- | --- | --- | --- | --- |
| Vehicle | Lease Deal | Effective Cost | Region | Customize Offer |
| 2020 Chevrolet Silverado 1500 Custom 4x2 Crew Cab V6 | $312 for 36 months, $0 due at signing (Sign & Drive, Current GM/Non-GM Lessees) | $312 | National | Customize Offer |
| 2020 Ford Ranger XLT 4x2 SuperCrew | $239 for 36 months, $3,239 due at signing (Select Stock) | $329 | California | Customize Offer |
| 2020 GMC Canyon SLE Crew Cab V6 | $279 for 36 months, $2,599 due at signing (Current GM/Non-GM Lessees) | $351 | California | Customize Offer |
| 2020 Chevrolet Colorado LT 4x4 Crew Cab | $329 for 36 months, $1,559 due at signing (Current GM/Non-GM Lessees) | $372 | National | Customize Offer |
| 2020 GMC Sierra 1500 SLE Double Cab 4x2 | $239 for 36 months, $1,359 due at signing | $377 | Los Angeles | Customize Offer |