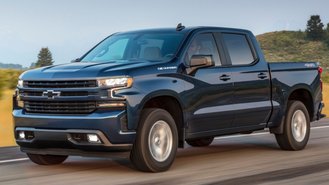 The cheapest truck leases in November to are dominated by GM this month with Chevy and GMC taking 4 out of 5 of the cheapest options. However, the 2020 Ford Ranger tops the list this month thanks to an extra bonus from trading in another vehicle.
Shoppers should note that 2021 models are beginning to arrive at dealerships and can sometimes be cheaper than some 2020 models. The 2021 GMC Canyon remains a top option starting at just $279/month, although it includes a discount when coming from another lease.
A nationwide inventory shortage has made it harder to find trucks with the lowest payments. As before, the cheapest leases on pickups are generally limited to easier-to-find configurations and equipment packages.
For more great deals, be sure to see our ranking of the best truck deals and the largest discounts on trucks. We've also put together a complete list of deals and assistance programs related to COVID-19.
Be sure to also follow our ongoing coverage of Black Friday deals and offers for the holiday.
Cheapest Truck Leases
| | | | | |
| --- | --- | --- | --- | --- |
| Vehicle | Lease Deal | Effective Cost | Region | Customize Offer |
| 2020 Ford Ranger STX 4x2 SuperCrew | $199 for 36 months, $2,999 due at signing (Select Stock, Current Lessees w/ Trade-In) | $282 | California | Customize Offer |
| 2021 GMC Canyon Elevation 4x2 Crew Cab | $279 for 36 months, $579 due at signing (GM/Non-GM Lessees) | $295 | California | Customize Offer |
| 2020 Chevrolet Silverado 1500 Custom 4x2 Crew Cab V6 | $229 for 24 months, $1,949 due at signing (GM/Non-GM Lessees) | $310 | National | Customize Offer |
| 2021 Chevrolet Colorado LT 4x4 Crew Cab | $259 for 36 months, $2,189 due at signing (GM/Non-GM Lessees) | $320 | National | Customize Offer |
| 2021 Chevrolet Silverado 1500 Custom 4x2 Crew Cab V6 | $259 for 24 months, $2,039 due at signing (GM/Non-GM Lessees) | $344 | California | Customize Offer |