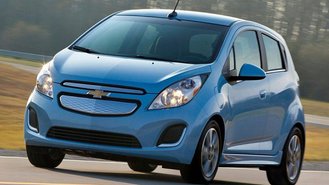 Earlier this month, Chevrolet announced lower pricing on the 2015 Spark EV. In addition to a $1,650 price cut, the car gets a range of updated rebates and a revised lease offer. But is it really a better deal? Here's what you need to know.
New rebates
In addition to the price cut, the 2015 model gets a $1,000 bonus. Outgoing 2014 models don't get the price cut, but Chevrolet is offsetting the price changes with a $3,000 incentive in California.
If you consider that the car is also eligible for a $7,500 Federal tax credit and $2,500 California Clean Air Rebate, this potentially reduces the cost to less than $15,000. This assumes you live in one of the few states where the car is sold- notably California, Oregon, and Maryland.
The combination of lower pricing and updated rebates is undoubtedly attractive. More impressive, however, is a revised lease offer that makes the Spark EV our top EV lease pick.
Side-by-side: Top EV car specs>>
Best EV lease
The lease on the Spark EV was already a top pick in our monthly green car deal ranking. The top spot was previously held by the FIAT 500e at $139/month with $1,999 down.

This month's changes on the Spark EV have lowered the payment by $50 to a mere $139 with $0 due at signing. If you consider the low amount due upfront and the lower monthly payment, this is undoubtedly the best deal on an EV right now.
Full Spark EV pricing and deal info>>
$39/month lease- too good to be true?
We've received reports of dealers in California advertising payments as low as $39/month on the Spark EV. That sounds pretty incredible, so we did an analysis.
In this case, the lower payment is almost completely offset by an unusually large $3,900 due at signing. We recommend shoppers look beyond the monthly payment when evaluating lease offers.
Best Green Car Deals this month>>
Our take
The new pricing and enhanced incentives equate to some incredible offers on the Chevy Spark EV this month. While the car is generally considered a "compliance car" meant to satisfy state mandates, the benefits of ownership can be undeniably attractive.
In addition to substantial subsidies, the car is eligible for benefits like unrestricted access to the carpool lane in California and free parking in certain cities. For shoppers to whom an EV makes sense, now is an outstanding time to buy.
Get a custom lease quote on a Spark EV>>
Incentives listed here are based on a resident in Southern California. Lease offers are based on top-tier credit and exclude tax, license, title, registration, document fees and insurance. State-level incentives can vary, so please check with your CarsDirect Trusted Dealer to confirm all available offers in your region.
Visit our CarsDirect Pricing Insider page for pricing and deal analyses for over 300 models. Sign up for email alerts to have our analyses delivered straight to your inbox. Browse our Deals Articles for insider info on the latest new car incentives that can save you money.