Getting a deal on a Chevy Corvette hasn't gotten easier nearly a year after the car's highly-anticipated arrival. Due to multiple production issues and limited availability, the costs to buy & lease remain incredibly high amidst the pandemic.
The sad fact is that Corvette deals haven't really been a thing since blowout offers ended on the outgoing C7 model. Chevy isn't even offering discounts to its own employees by excluding the C8 from the GM Employee Pricing Program.
To make matters worse, the brand isn't even bothering to list the cost to buy or lease the Corvette in its online payment calculator. Fortunately, our Corvette lease vs. loan calculator may be able to help shed some light on what to expect.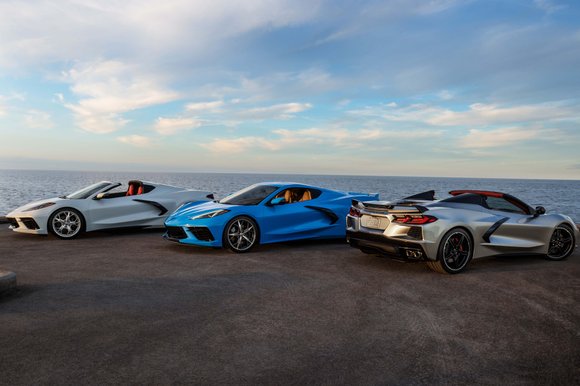 For example, the 2021 Corvette 1LT (MSRP $59,995) comes out to $994 for 60 months based on 10% down and an estimated rate of 4%. If you aren't keen on putting $6,000 down, a zero-down option raises the payment to $1,105.
Apart from the fact that base Corvettes have been hard to find, the figures don't reflect applicable taxes, fees, and potential dealer markups. Sadly, leasing offers little relief for shoppers a year after we reported on the first C8 offers.
Chevy's standard lease rate remains 6.2%, the same figure as this time last year on the 2020 Corvette. Even with a residual value of 67%, the cost of a $0-down, 12,000-mile-per-year lease comes out to approximately $808/month.
At that price, you could potentially save money leasing a 2021 F-TYPE. Jaguar recently cut lease prices with a 7,500-mile-per-year option, and you can now lease a P300 from as little as $499 for 36 months with $4,995 due at signing.
With an effective cost of $638, that's $170 per month less than the cheapest Corvette. Alternatively, Jaguar is currently offering an unadvertised rebate worth up to $8,000 off MSRP when you opt to buy rather than lease through March 1.
We expect Corvette buyers will continue to see high prices for the foreseeable future. While Chevy has certainly been offering crazy APR deals on other models, the Corvette remains a major exception that commands a steep premium.
Current Chevy offers end on March 1, 2021.