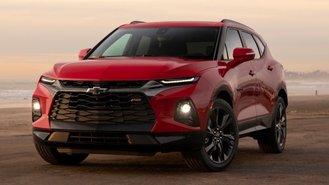 Memorial Day deals from Chevy are looking pretty unimpressive just days away from this year's holiday. However, a closer look reveals shoppers may be able to enjoy better discounts than the ones being advertised. That's because the brand is using unadvertised Flex Cash incentives to help lower prices.
Unlike most cashback promotions, Flex Cash is a manufacturer-to-dealer incentive that can save you up to an additional $2,000 when buying and $1,000 when leasing. Nearly all 2019 Chevys are eligible, including newer vehicles like the redesigned Blazer and niche models like the Corvette.
The catch is that not every dealer may be in a position to pass along the full amount. As a result, shoppers comparing prices at more than one dealer may see larger-than-usual differences in price. In some cases, this may enable you to significantly increase your savings compared to advertised offers.
For example, the 2019 Blazer benefits from a $2,000 rebate. With the maximum Flex Cash amount, that's $4,000 in potential savings. In the case of a 2019 Impala, this can boost your savings from a paltry $500 rebate to $2,500 in combined savings.
That said, some models have considerably worse incentives compared to last month.
For example, Impalas were eligible for up to 17% off MSRP in April, a $6,459 discount in the case of the loaded Premier trim. Even with Flex Cash, current offers pale in comparison. Equinoxes had a 20% discount last month (up to $8,050 off the Premier). With Flex Cash, the maximum right now is $4,000.
Those expecting to see 0% financing this year will likely be disappointed. While many Chevys offered 0% APR for 72 months in April, nearly every one of those offers ended in May. As of this writing, the only 2019 models to feature that rate are the 2019 Silverado redesign, Tahoe, and Suburban.
Consider your options carefully. If you don't see a deal you like, consider waiting. Current offers end June 3.