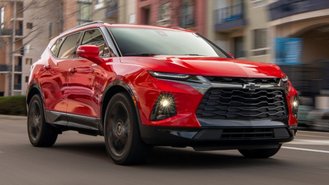 Chevy Blazer shoppers can take advantage of lower lease prices heading into June, a big relief considering expensive leases have plagued the vehicle ever since its launch earlier this year. Interestingly, a closer look reveals this is largely being made possible by massive improvements in residual values.
This month's nationally advertised lease on the 2019 Blazer LT is $289 for 36 months with $3,619 due at signing, an effective cost of $390/month. Last month, the featured deal was $339 for 36 months with $4,989 at signing, an effective cost of $478. That's an $88 month-to-month swing in price.
While our assumption was that Chevy simply raised discounts, that's actually not the case. According to dealer leasing guides, the underlying lease cash amounts haven't changed. What's different is that the Blazer now features a lower interest rate and a substantially higher residual value.
In the case of the Blazer LT, the money factor has fallen from a rate equivalent to 5.28% APR (down from 5.5%). What's more significant is a huge increase in residual value from last month's 55% to a whopping 65%. The figures assume a 10,000-mile-per-year lease for 36 months.
Generally speaking, higher residuals often translate to better leases. At 65%, our analysis finds that the Blazer now has a higher residual than the Chevy Equinox (60%, LT trim). For reference, the highest figure for the Nissan Murano S is 53-54% depending on annual mileage.
Under the right circumstances, we think the Blazer can be a pretty good value. Current GM lessees can take advantage of a $1,000 loyalty bonus that reduces the amount due at signing to just $2,619, bringing the effective cost down to $362/month. That can make the Blazer cheaper to lease than the Sonic LT ($378).
Clearly, now appears to be a much better time to buy compared to deals we saw for Memorial Day. Offers end July 1.