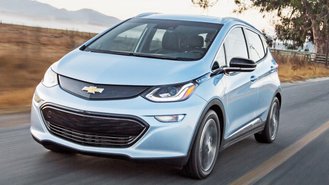 For about as long as we can remember, the best deals on the Chevy Bolt EV have been largely limited to California and zero-emission vehicle (ZEV) states. However, Chevy is now giving everyone else a chance to enjoy the same incentives with over $9,000 in savings up for grabs this month.
According to a dealer incentive bulletin, the 2019 Bolt LT is listed at $339 for 39 months with $2,769 due at signing, an effective cost of $410/month before taxes & fees. Previously, Chevy's website listed the same car at $449 for 39 months with $3,799 at signing, or $546/month.
That basically equates to a $136/month price cut from one month to the next. Based on our analysis, the main reasons for this are the addition of a $2,500 national lease incentive and a drop in interest rate to 1.25% APR. Those planning to buy will find better deals too.
Last month, consumers in non-ZEV states had a choice between 0% APR for 72 months plus a $1,000 bonus or $5,500 in cash incentives. Since then, the bonus has been doubled to $2,000 and the brand is offering a confusing array of discounts in lieu of low-interest financing.
First, buyers can take $2,000 in customer cash plus a $4,500 bonus. Bolts are also now eligible for GM Supplier Pricing. Beyond that, dealers are being given $2,500 in dealer cash to help lower prices. Based on our analysis, these deals can be stacked for well over $9,000 in savings.
We're already seeing dealers advertising some pretty crazy discounts.
One local dealer in Carson, California is offering over $15,000 off a new Bolt LT, bringing the car's price tag down from $40,075 to just $24,999. While a closer look reveals the listing includes a $1,500 loyalty discount, this is still a remarkable discount for this model.
So why are Bolt deals suddenly so good?
At this point, we've essentially reached the end of the 2019 model year for the Bolt. Late last month, Chevy revealed that the 2020 Bolt will see a 21-mile increase in range to 259 miles. That's enough to barely edge out the Hyundai Kona Electric's 258-mile rating.
Given that we've never really seen cheap leases outside California and ZEV states, we consider now a very good time to buy. Offers are set to end September 30.