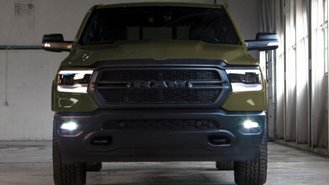 Even though much has been said about it being a terrible time to buy a car, our analysis finds that there are still automakers offering crazy incentives. In some cases, you may be able to score some of the same head-turning deals we saw over a year ago at the start of the pandemic like 0% APR for up to 84 months.
Chrysler is offering 7 years of zero-interest financing on the 2021 RAM 1500 Crew Cab in both the Northeast and Mid-Atlantic. In a state like Maryland, that could help lower the monthly payment on a $50,000 pickup to just $595. In contrast, Ford's 7-year rate of 5.9% APR on the F-150 comes out to about $728/month.
Having said that, F-150 buyers may find a 72-month loan the "sweet spot" when it comes to value. Although longer loans typically involve cheaper payments, that's not always the case. That's because Ford is offering 0% APR for 72 months. Based on the scenario above, that would entail a payment of around $694/month.
If you thought big rebates were gone, Audi is offering a $10,000 credit on the A8 sedan this month. Even better, a limited-time Costco promo promises an additional $2,500 for $12,500 in savings. Alternatively, Buick is offering 0% APR financing for 72 months across its lineup, including every 2022 model-year vehicle.
Meanwhile, Chevy is offering deferred payments for 120 days, while Cadillac is offering 0.9% APR for 72 months. Even Honda is continuing to offer rates as low as 0% on the 2021 Passport and Pilot. With a $1,000 loyalty discount, the Passport can now be leased from $209/month, one of the best leases on an SUV.
If you know where to look, there are clearly deals to be had. However, we've observed a major disconnect between manufacturer incentives and actual dealer prices. As a result, shoppers chasing money-saving deals could find themselves encountering big dealer markups even as we enter the fall car sale season.