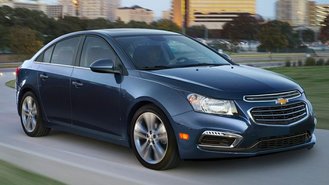 Although the redesigned 2016 Chevrolet Cruze isn't set to debut until tomorrow, that's not stopping it from making headlines. In an unusual move, the automaker has decided to keep the outgoing 2015 model around for at least another year, rebadging it the Cruze Limited. Although there are obvious comparisons with what the automaker has done in the past, an analysis reveals a potentially confusing situation for shoppers. Here's what you need to know.
Another Impala Limited?
The first comparison we're tempted to make is with the Chevy Impala. Despite a complete redesign for the 2014 model year, the automaker decided not to ignore the previous version's appeal with fleet customers by keeping it around and renaming it the Impala Limited. However, unlike the Impala, the Cruze Limited will be available to both ordinary consumers and fleets.
Chevy hasn't released official pricing for the 2016 Cruze but we know the Cruze Limited will be priced $100 higher than the current model. The base L Manual is keeping the same starting price of $16,170 before destination, undoubtedly part of a trend we identified earlier this year involving low-priced base models. Order guides reveal the diesel model has apparently been dropped.
The Rogue Select comparison
The second comparison we can make is with the Nissan Rogue Select. Back in 2014, Nissan completely overhauled the Rogue crossover, turning it into a segment leader. It also became considerably more expensive- at least $2,600 higher than the previous version.
Not wanting to alienate budget-oriented shoppers, the automaker kept the older, budget-priced S model and rebadged it the Rogue Select. It has continued to sell at a wallet-friendly base price of $20,150, thousands less than competitors.
Although this is an obvious comparison, Chevy's price points suggest a very different situation. The difference between the Rogue Select and Rogue is now close to $2,900. By keeping the price points on the Cruze Limited nearly identical to the previous model, it's possible that a lack of differentiation could confuse shoppers.
Side-by-Side: Nissan Rogue vs. Nissan Rogue Select>>
Our take
Keeping the old Cruze around at similar price points is an unusual move for GM. Comparisons with the Impala Limited and Rogue Select suggest the automaker is doing something quite different.
Is this a signal that the redesigned 2016 Cruze will have a considerably higher base price? This seems unlikely based on the pattern we've been seeing. New base models under Buick, Chevrolet, and GMC show the brands are attempting to undercut competitors.
One possible outcome is that dealers may choose not to stock the Cruze Limited and that GM may treat it differently when it comes to incentives. A comparable MSRP could mean little if the new Cruze doesn't end up with thousands in discounts like the current model.
Will there be enough price differentiation to not confuse shoppers once the new Cruze goes on sale? That remains to be seen.
Read our preview of the 2016 Chevrolet Cruze>>
Incentives listed here are based on a resident in Southern California. Lease offers are based on top-tier credit and exclude tax, license, title, registration, document fees and insurance. State-level incentives can vary, so please check with your CarsDirect Trusted Dealer to confirm all available offers in your region.
Visit our CarsDirect Pricing Insider page for pricing and deal analyses for over 300 models. Sign up for email alerts to have our analyses delivered straight to your inbox. Browse our Deals Articles for insider info on the latest new car incentives that can save you money.