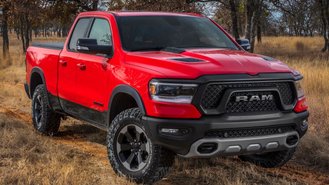 Even though there are Black Friday incentives on cars, our analysis finds that Cyber Monday car deals are largely non-existent. While the Monday after Thanksgiving can be a great time to scoop up cheap electronics, the odds are likely that bargain hunters will see no advantage whatsoever.
We looked at years of incentives and found no deals specifically benefiting Cyber Monday car, truck, and SUV shoppers. Instead, our analysis finds that manufacturers either offer month-long Black Friday deals or limited-time offers around the holidays. Here are some examples.
Last year, Ford offered a $500 Amazon gift card for 1 day only on Black Friday when buying any one of its vehicles. In contrast, shoppers in 2020 will find outstanding month-long deals like 0% APR for 84 months on GMC and Buick models, plus Employee Pricing from Chrysler.
In the case of a 2020 RAM 1500, the automaker says you can save nearly $10,000 off MSRP on the well-equipped Limited trim when switching brands. That presents more than twice the savings buyers are likely to find on competitors like the 2020 Ford F-150 so far in November.
The closest thing we found is a $500 Cyber Cash incentive unveiled by Chevy earlier this month. However, the only thing "cyber" about the month-long deal is that it requires consumers to give up their personal information to get an e-coupon, and consent to being contacted by dealers.
While no one can predict the future, we think the fact that Cyber Monday deals have never been a thing in the first place could be useful for shoppers to keep in mind. That said, our continuous Black Friday deal coverage will be the best place to see updates as they're announced.
As always, it's also worth pointing out that there's a big difference between manufacturer incentives and dealer discounts. The latter involves programs meant to help get shoppers to buy or lease. While most rebates are available to everyone, dealers can sell at whatever price they want.
Here's an example. If a car with an MSRP of $30,000 has a $2,000 rebate and is listed at $28,000, what this actually means is that the car is being advertised at its full sticker price with no dealer discount. In most cases, you'll still want to negotiate in order to get the best price possible.
To help you in your shopping, CarsDirect offers Target Pricing on a wide range of vehicles. We can also help reveal what incentives are available, as well as hidden discounts that can save you money. Our network of dealers is also specially-equipped to help borrowers with bad credit.