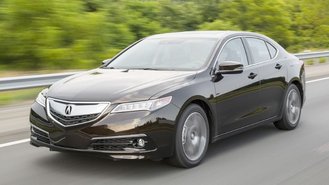 If you're shopping for a 2015 Acura TLX, you may want to take a close look at this month's lease deals. That's because an unusual combination of factors is resulting in an identical lease cost on the 4-cylinder and V6 models despite the cars being priced $3,875 apart. But how is this possible? And how can shoppers get the best deal? Here's what you need to know.
Deal overview
On the surface, Acura's featured deals on the 2015 TLX look simple enough. Through November 2, the 4-cylinder with dual-clutch can be leased from $289 per month for 36 months and the V6 with 8-speed auto can be leased from $299 per month. Both have the same details: $1,999 due at signing, same term, yearly mileage of 10,000 miles, etc.
However, things get interesting when you look at this month's $0 down deals. That's because a $20 payment cut on the V6 has brought it to the exact same $350 payment and effective monthly lease cost as the 4-cylinder. But wait- how can that make sense? The 4-cylinder has an MSRP of $32,365 and the V6 is priced at $36,240.
Learn more about the 2015 Acura TLX>>
Deal analysis
The reason has a lot to do with what's going on behind the scenes. The V6 may be $3,875 more expensive on paper, but it has lease discounts worth up to $2,000, or $500 more than the 4-cylinder. But that's just the beginning.
Acura is structuring the V6 with at least $600 less profit than the 4-cylinder. The money factor, akin to the lease interest rate, is also different with the equivalent of 1.10% for the 4-cylinder and 0.38% for the V6. Residual values are comparable at 60% and 59%, respectively.
Given its MSRP, this month's offers are outstanding. The TLX even ranks as a top value pick in our analysis of over 55 luxury sedan leases in September. But if you're looking for the better value, you may want to consider the V6.
Learn more about this month's offers on the TLX>>
Our take
If you're in the market for a deal on a smart luxury sedan, we think this month's offers on the Acura TLX are definitely worth considering. Lease shoppers in general can also take this as an opportunity to see how the better value might not always be the cheaper car. Keeping an open mind can help identify a hidden value you might not expect.
Get a custom lease quote on the Acura TLX>>
For an easy way to find the best deals, visit the CarsDirect Deals Page for the latest deal-related news and analyses. Browse expert buying advice updated monthly on nearly 300 models for insider insights you'll only find at CarsDirect. Be sure to sign up for email alerts to have the latest deals delivered straight to your inbox.
Offers listed here are based on a resident in Southern California and may be subject to change. Most lease offers are for well-qualified buyers based on available credit and exclude tax, license, title, registration, document fees and insurance. Not all buyers may qualify. Please check with your CarsDirect Trusted Dealer to confirm details and eligibility.