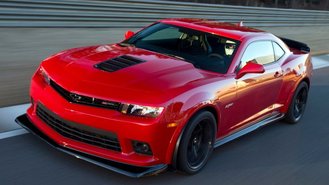 Memorial Day is shaping up to be a great time to buy a car. We're seeing some of the best deals we've ever seen on many cars. Chevrolet has been a bit of an anomaly, promoting a 15% off discount on their oldest inventory. However, we were taken aback today when the automaker doubled discounts on the 2015 Chevrolet Camaro. The interesting part? They only doubled rebates on the top-of-the-line Z/28 model. Here's what you need to know.
Meanest of the bunch
The Z/28 is considered a track-ready Camaro. To put it simply, it means serious business- and with an MSRP nearly $17,000 more expensive than the Camaro ZL1, it should.
With the higher price you get a lower curb weight by 300 lbs and a range of high performance features: ceramic brakes, some of the widest tires you'll ever see on a production car, and damper technology inspired by Formula 1.
When we said it means business we weren't kidding. You won't get standard air conditioning or an automatic transmission option, all in the name of performance.
Compare specs: Camaro Z/28 vs. Camaro ZL1>>
Deal details
You can imagine our surprise when Chevy announced a new $1,000 bonus on the Z/28 today. The incentive is national and can be combined with the $1,000 rebate already on all Camaro models through June 1.
What this means is that shoppers can potentially see a standard $2,000 discount on the Z/28 starting today, before dealer discounts. Leasing a non-GM model? A $500 bonus can boost your savings to $2,500.
See all offers on the 2015 Camaro>>
Slower seller
That's pretty impressive for what's generally considered a niche vehicle. Interestingly, our analysis found the Z/28 is actually easier to find right now than the less-expensive ZL1. We're willing to bet the high price of the Z/28 and manual-only configuration have been a deterrent to more than a few shoppers.
Lots of choices
The good news is that shoppers have a huge range of choices on the 2015 Camaro. For shoppers not looking for track-ready performance, the SS models offer a lot of value. They're also easier to find than you might think.
You can even dig down into special edition packages if you're looking for some uniqueness with exclusive colors. For example, the Green Flash Special Edition has some styling cues you won't see on every other Camaro on the road.
The 2016 model was just revealed and promises to be leaner and meaner when it becomes available later this year. If you can afford to wait, that could be interesting, but you won't find an intense Z/28 model for a while.
Top picks: Best Memorial Day Deals>>
Our take
With a new and oddly low-profile discount heading into Memorial Day, it'll be interesting to see if Z/28 sales see an improvement. We're still wondering why Chevrolet would discount what is arguably one of its more profitable models before Memorial Day. Maybe the answer is simpler than we might think. Because.... 'murica?
Confirm your discounts on the Chevrolet Camaro>>
Unless specified otherwise, incentives listed here are based on a resident in Southern California. State-level incentives can vary, so please check with your CarsDirect Trusted Dealer to confirm all available offers in your region.
Visit our CarsDirect Pricing Insider page for pricing and deal analyses for over 300 models. Sign up for email alerts to have our analyses delivered straight to your inbox. Browse our Deals Articles for insider info on the latest new car incentives that can save you money.