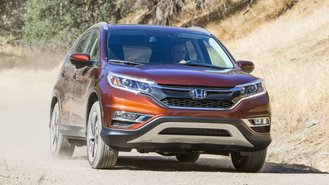 If you've been shopping for a well-designed small crossover, chances are you've considered the Honda CR-V. However, deals on the 2015 model have largely focused on the entry-level LX model. However, there's good news for shoppers interested in a better-equipped version. In an unusual mid-month change, Honda cut $30 off the lease payment for the EX model this past weekend. But is it really a good deal? Here's what you need to know.
Deal overview
From November 14, the lease payment on the 2015 Honda CR-V 2WD EX has been cut to $229 per month- a $30 drop compared to $259 earlier this month. The term and amount due at signing are unchanged at 39 months and $2,999.
When it comes to lease improvements, a $30 payment cut is very unusual. This essentially equates to $1,170 over the life of the lease.
The main reason for the change is that Honda added an unadvertised lease discount of $750 on EX and higher models. Like most of Honda's offers, the deal is set to expire January 4, 2016.
Photo Gallery: 2015 Honda CR-V>>
Deal analysis
Factoring the payment and amount due at signing, the effective lease cost for the 2015 EX is now $306 per month. Interestingly, that's the same as the recently-added deal on the 2016 LX with 2WD.
When you consider that the 2015 EX and 2016 LX have the same lease term and amount due at signing, the EX is clearly a superior value- especially considering the difference in MSRP of $1,950.
Side-by-Side: 2015 CR-V EX vs. 2016 CR-V LX>>
Our take
If you don't need the latest version and prefer a bit more equipment, you may want to consider the EX. Our inventory analysis shows the 2015 model is still abundant on dealer lots and that this should continue through December.
Get your custom lease quote on the Honda CR-V>>
For an easy way to find the best deals, visit the CarsDirect Deals Page for the latest deal-related news and analyses. Browse expert buying advice updated monthly on nearly 300 models for insider insights you'll only find at CarsDirect. Be sure to sign up for email alerts to have the latest deals delivered straight to your inbox.
Offers listed here are based on a resident in Southern California and may be subject to change. Most lease offers are for well-qualified buyers based on available credit and exclude tax, license, title, registration, document fees and insurance. Not all buyers may qualify. Please check with your CarsDirect Trusted Dealer to confirm details and eligibility.