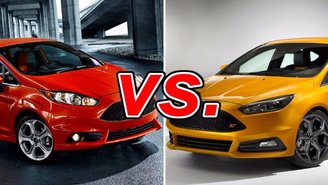 Cheap is good, especially when it comes to going fast. With an MSRP of just $22,015 including destination, the 2017 Fiesta ST offers a lot of thrills for not a lot of cash. Reports say the car will be discontinued in the U.S., and some shoppers are making the case that now is the time to buy. But is it?
A closer look reveals that a low price may not make the Fiesta the best deal necessarily. In fact, the more powerful Focus ST may in some cases be nearly the same price because the discounts are oriented differently. But how is that even possible? What do current offers look like? And what's the catch?
Here's what you need to know.
Sibling Rivals
At $25,650, the Focus ST isn't cheap but has an edge over traditional favorites like the Volkswagen GTI in terms of price. Compared with the Fiesta ST, it's a premium that'll cost you an additional $3,635. That's a lot, at least on paper.
Here in Los Angeles, the Fiesta features a $1,250 rebate, a normal amount for this time of year based on our records. However, the Focus ST is eligible for a larger discount worth $3,500. As a result, we're seeing cases in which prices overlap.
One local Ford dealer is advertising the Fiesta ST from $19,529 based on an MSRP of $22,390. That equates to a $2,861 discount off MSRP including the dealer's discount and rebate. If that sounds like a good deal, it's because it is.
But there may be a better one not far away.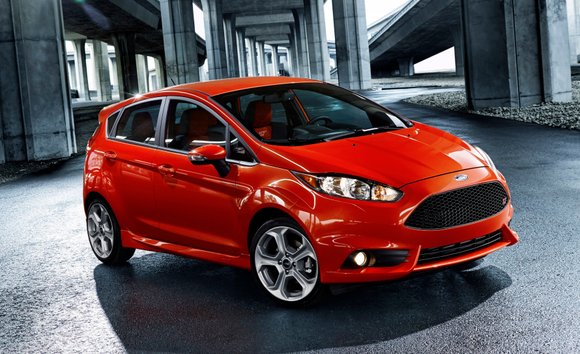 If you were to take a stroll down the same dealer's lot, you'd find a Focus ST for $19,360. That's based on an MSRP of $25,650 and reflects a $6,290 discount. If you can believe it, that's $169 less than the Fiesta.
So for the price of a pair of Beats headphones, you could actually upgrade to a car with more power, more cargo space and over 2 inches more legroom for rear passengers. Surely, there must be a catch.
Well, sort of.


Let's Get Regional
Like all Fords, offers can vary quite a bit depending on where you live.
In California, it's $1,250 off the Fiesta ST and $3,500 off the Focus ST. In the Southeast, it's $3,000 off the Fiesta and $3,500 off the Focus.
Based on our analysis, the largest discount at the moment is a factory promotion in Detroit through July 31 on the Focus ST worth $4,500.
Whichever car you go with, you're bound to have fun behind the wheel. Just don't assume which one is necessarily the better deal.