The 2017 Fiat 124 Spider has finally arrived, and shoppers looking for a well-handling roadster now have an alternative to the much-lauded 2016 Mazda MX-5 Miata. Both have the same underlying DNA, but offer enough differences that might make some shoppers think twice when choosing between the two.
So how do they compare when it comes to deals? We looked at the latest cashback, finance and lease deals on both cars to find out for ourselves. The answer may not be as obvious as you might think. Here's what we found.
Offers assume a Southern California location
Round 1: Purchase & Finance Offer Comparison
All versions of the 124 Spider currently feature a $500 rebate. There's also a $1,000 bonus for current owners of any FCA vehicle, for a total of up to $1,500 available through August 1.
In contrast, the Miata gets no rebates except for a pair of loyalty discounts worth $500 for purchasing and $750 for leasing. If you're looking to finance, the difference in offers is a bit more stark.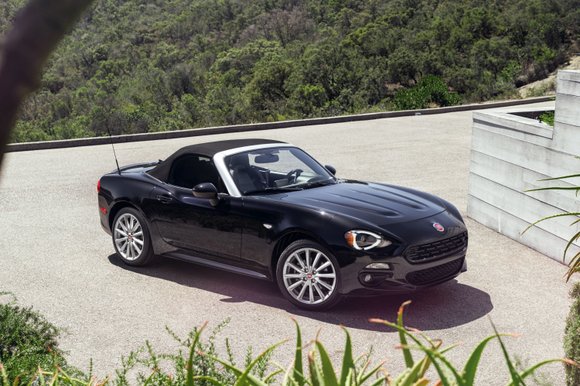 The 124 Spider can be financed from 0.9% APR for 36 months, 1.9% for 48 months, or 2.9% for 60 months. There's even an extended financing incentive at 4.9% APR for 72 months. On the other hand, the Miata has no advertised finance offers.
The winner here certainly seems to be the Fiat.
Round 2: Lease Deal Comparison
FCA already has a slew of deals on the 124. The cheapest lease on the Classica with manual starts at $289 for 36 months with $2,999 at signing (12k mi/yr). The same car with an automatic is only $10 more per month despite an MSRP that's $1,350 more expensive.
If you're considering the sporty Abarth variant, those start at $339 for 36 months with the same amount at signing as the Classica. Again, opting for the automatic transmission adds $10 to the payment.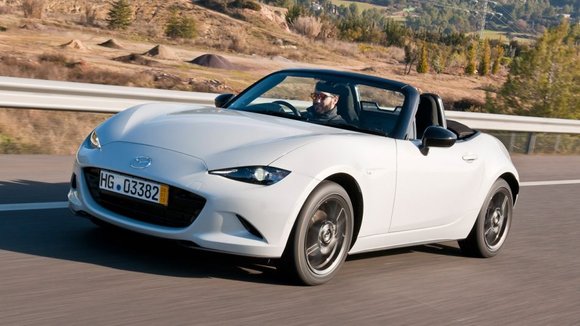 The Miata is a completely different animal when it comes to leasing. Mazda is offering the base Sport model with manual from $409 for 36 months with $0 due at signing (12k mi/yr). While we love $0 due at signing offers, a closer look reveals this to be one of the worst leases you're bound to find this month.
For illustrative purposes, you could lease a nearly $37,000 Lexus NX 200t for nearly the exact same terms ($409 for 36 months with $0 due at signing and 10k mi/yr). An effective lease cost of $409 with the Miata is almost identical to the nearly $40,000 Hyundai Genesis Sedan ($409 vs. $410).
That being said, the 124 Spider isn't a whole lot better. With an effective cost starting at $372 per month when you factor the payment and amount due, it's not an outstanding value given the car's MSRP. For comparison, it's quite a bit higher than the 2016 Scion FR-S with automatic ($335) and awfully close to the 2016 Subaru BRZ Premium ($388).
The winner here is arguably the 124 Spider.
Conclusions & Shopping Notes
Based on our analysis, the 2017 Fiat 124 Spider appears to be a clear winner when it comes to deals when pitted against the Miata. That being said, there are alternatives like the Scion FR-S that equate to a superior value when you lease.
If you aren't in a rush to buy, be sure to consider that the Miata will be getting a new retractable hardtop variant for 2017 dubbed the RHT. Shoppers should also be aware that Mazda has included the current Miata in two of its most recent holiday offers.
For both Memorial Day and Independence Day, an admittedly paltry $250 bonus was added at the last minute, for up to $750 when combined with Mazda's purchase loyalty offer. Based on what we've seen, there may be a good chance of seeing a similar offer for Labor Day this September.
Side-by-Side: 2017 Fiat 124 Spider vs. 2016 Mazda MX-5 Miata »
For an easy way to find the best deals, visit the CarsDirect Deals Page for the latest deal-related news and analyses. Browse expert buying advice updated monthly on nearly 300 models for insider insights you'll only find at CarsDirect. Be sure to sign up for email alerts to have the latest deals delivered straight to your inbox.
Offers listed here are based on a resident in Southern California and may be subject to change. Most lease offers are for well-qualified buyers based on available credit and exclude tax, license, title, registration, document fees and insurance. Not all buyers may qualify. Please check with your CarsDirect Trusted Dealer to confirm details and eligibility.