Although the Wrangler has typically commanded a sizable premium at dealers, shoppers looking to buy the iconic SUV can expect to find some amazing deals right now. An oversupply of remaining 2018 inventory has resulted in Jeep offering rare cash incentives, with dealer discounts in some cases reaching over $9,000.
Following an extended selldown of outgoing JK inventory (confusingly sold for 2018 under the same model year as the newer JL version), dealers still have a large amount of JL stock on hand. Nationally, dealer incentive bulletins show Jeep is offering a $500 bonus on all versions of the redesigned 2018 Wrangler.
While that may not sound like a lot, it's one of the only factory incentives we've ever seen on the Wrangler. At the dealer level, we're seeing far greater discounts. In one of the most extreme cases we've seen so far, a dealer in Huntington Beach known for aggressive discounts is offering $8,985 off a 4-door Sahara model.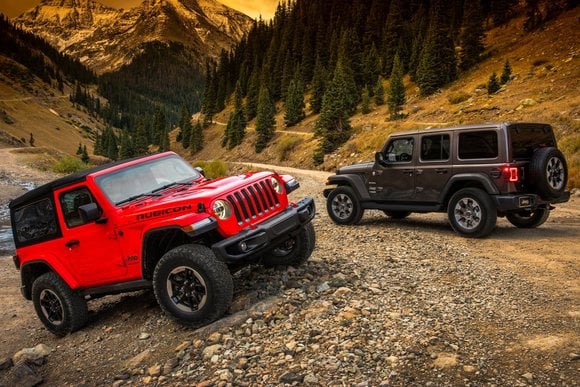 Paired with the $500 factory incentive, that equates to $9,485 in savings, lowering the price of the $43,885 vehicle to just $34,400. That's almost a 22% discount off MSRP, one of the largest discounts we've seen on the JL model. As usual, expect Unlimited styles to be easier to find compared to 2-door Wranglers.
Here's a sampling of some of the better deals we're seeing across the country:
Interestingly, a history of price increases and high lease prices suggests Jeep has been confident in the Wrangler's popularity. However, the fact that we're seeing such large discounting and an abundance of 2018 stock in mid-April presents a great opportunity for shoppers.
Since dealer discounts can vary, we recommend shopping around for the best possible deal. As always, be sure to read any fine print carefully to ensure there are no surprises as far as what's included and not included in the vehicle's price.
Current offers end April 30.