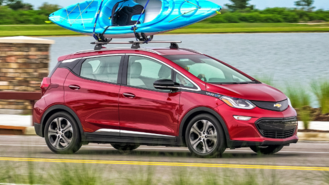 Hyundai thumbed its nose at Chevy today by announcing that the 2019 Kona Electric will have the same price as the Chevy Bolt EV. Given that GM is expected to reach its 200,000 vehicle milestone after which time the coveted $7,500 federal tax credit will begin being phased out, some may be asking "is the Bolt a bad deal now?"
Before deciding if that's going to really be the case, it's important to note that the Kona EV will only be stocked in zero-emissions states like California, Oregon and parts of the Northeast. In contrast, the Bolt is available nationwide, although we generally find that factory incentives often favor the areas we just mentioned.
It's also important to remember that the Bolt's $7,500 tax credit won't simply disappear. If GM reaches 200,000 plug-in sales later this month, the credit will remain in place until the end of the first quarter in April. Even then, it won't be eliminated but will be cut in half to $3,750.
So how will the Bolt compete? Some have speculated that GM could slash prices. We think that's unlikely unless the brand chooses to offer some sort of base variant with fewer features. Better incentives are likely, but we've already found that the brand tends to focus its best offers on higher-volume vehicles.
As it stands, the Bolt is still an excellent choice for EV shoppers eligible for the full $7,500 credit. In places like California, you can get an additional $2,500 via the state's Clean Vehicle Rebate, with larger amounts available for those with lower incomes. Early 2019 will likely be a key time for those who've been on the fence about buying.
Having said all that, the Kona Electric's impressive range and sharp styling could make it a surprisingly good alternative. Hyundai hasn't announced financing and lease promotions yet, but we suspect green car buyers will find the new model an appealing choice on paper with 258 miles of range, better than the Bolt's 238-mile rating.