Dodge's most powerful car already features an absolutely massive discount. According to a dealer incentive bulletin, the upcoming 2020 Challenger SRT Super Stock is eligible for a whopping $8,070 cash incentive. Based on our analysis, this marks an extraordinary discount for what will likely be a very limited production vehicle.
The SRT Super Stock, revealed just last month, takes the same 6.2L supercharged V8 as the SRT Hellcat Redeye and increases its output from 797 hp to 807 hp. Grippy drag radials, specially-tuned Bilstein shocks, aluminum Brembo brake calipers, and more all help enable the Super Stock to hit 0-60 mph in as little as 3.25s.
Starting this month, the Super Stock features the same "$10 per horsepower" discount as other Challengers. Our analysis finds that the car may also be eligible for a 0% APR deal for 72 months that was unveiled before Labor Day. However, the incentives can't be combined and you'll have to choose one deal over the other.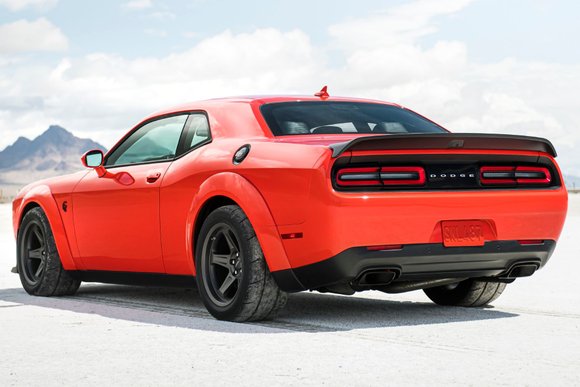 With an MSRP of $81,090 with destination, the Super Stock doesn't come cheap. However, an $8,070 discount equates to a roughly 10% discount before settling on a price with your local dealer. But is an over $8,000 discount really the best possible deal? The answer could surprise those looking to save the most money.
On an $82,000 car, an $8,070 rebate would result in a cost of $85,726 at $1,191/month based on 6-years at 5% APR. With 0% interest, the same car would cost $82,000 at $1,139/month before taxes & fees. It may seem counterintuitive, but the upfront discount of $8,070 would end up costing an extra $3,726.
A closer look finds that both incentives are better than what other high-powered muscle cars are offering. For example, the 760 hp Ford Shelby GT500 has an MSRP of $74,095 but is excluded from rebates and financing offers. Meanwhile, the 650 hp Chevy Camaro ZL1 starts at $67,690 and offers just a $1,500 rebate.
Steep discounts on Challengers aren't all that surprising. After all, Dodge's "$10 per horsepower" promotion has been running for over a year at this point. Still, being able to score a stellar deal on the most powerful muscle car in the U.S. could be great news for prospective buyers when the Super Stock arrives this fall.
Current offers are set to end September 30.