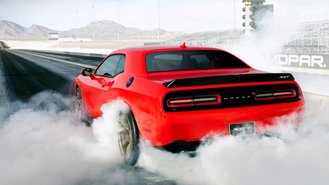 Looking to drive the most powerful production muscle car ever? Unfortunately, the price of entry just went up. Bulletins issued by Fiat Chrysler Automobiles (FCA) reveal prices for the heavily sought-after Dodge Challenger and Charger Hellcat models are being increased as much as $4,200 for 2016. Here's what you need to know.
Substantial price increases
For the 2016 model year, Dodge is raising base pricing for the Challenger SRT Hellcat by $4,200 to $62,495. For the less-potent but more accessible SRT 392, the price is going up $3,500 to $49,195. The prices exclude a $995 destination charge and $1,700 Gas Guzzler Tax. Similarly, the Charger SRT Hellcat is getting a $3,650 increase to $65,945, and a $3,000 hike on the SRT 392 model to $50,995.
Nearly every other trim level will receive no increase in pricing. The least-expensive 2016 Challenger SXT will continue to start at $26,995, with the 2016 Charger SE starting at $27,995. Equipment changes are minor, though the Hellcat models will feature self-described "ultra-premium" Laguna leather seating and will now get navigation standard. A notable change is the return of Plum Crazy, an iconic color that has become associated with the Mopar brand.
Learn more about the 2016 Dodge Challenger>>
No more drama?
Demand for cars powered by the monstrous 707-hp Hellcat engine has been incredibly high. At one point, the automaker instructed dealers to stop taking orders entirely, even warning shoppers about unrealistic expectations. Last month, the automaker announced that unfulfilled orders would be canceled entirely.
A bright spot exists, however- FCA has promised to boost production for 2016. Dealers will receive two allocations, one in August and one for next February based on average Hellcat turnaround time. As a protection against dealers taking orders for cars they will never get, FCA is saying they will only be able to order their given allocation.
Read our overview of the 2016 Dodge Charger>>
Consolation for jilted shoppers
For shoppers who had an order for a 2015 model canceled, FCA is offering consolation in the form of a discount on the 2016 model. Affected customers are being contacted directly and the offer isn't being advertised like a normal incentive.
According to a bulletin issued to dealers on August 4, the Hellcat Sold Order Cash Allowance can be used as a one-time discount of $5,000 on a Challenger Hellcat or $4,000 on a Charger Hellcat. The program is set to expire January 3, 2017.
Get local pricing on the Dodge Challenger>>
Where the deals are
While deals on the SRT models are never really offered, there's a bright spot for shoppers who don't need so much power. When it comes to the Challenger, the best discounts can be found on SXT and SXT Plus models thanks to a $1,000 bonus offer.
Deals on the Charger are a bit more generous, with the best discounts on SE and SXT models. Both trim levels currently get $2,500 in discounts.
Even better, shoppers currently leasing a competitor are eligible for a $1,000 conquest bonus. Current incentives are set to expire August 31, with the exception of the conquest offer which runs until April 4, 2016.
See deals on the 2015 Dodge Charger>>
Our take
As tempting as it is to decry the price increases, they seem a bit more reasonable given how unique the Challenger and Charger Hellcat models have been. Both have displayed a unique ability to sustain prices at or above MSRP. When you consider Laguna leather was a $1,795 option and navigation was $695 on last year's Challenger, this equates to $2,490 in equipment that will now be standard.
A commitment by FCA to increase production and rein-in order-taking are positive news, as is the incentive to take care of customers who had orders canceled. However, it remains to be seen whether FCA can deliver on its promises and avoid similar issues in the coming year.
Explore current pricing insights on over 300 models>>
For an easy way to find the best deals, visit the CarsDirect Deals Page for the latest deal-related news and analyses. Browse expert buying advice updated monthly on nearly 300 models for insider insights you'll only find at CarsDirect. Be sure to sign up for email alerts to have the latest deals delivered straight to your inbox.