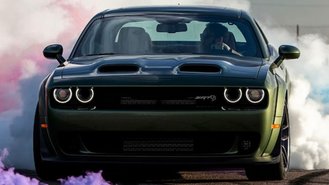 A new Labor Day deal from Dodge offers 0% financing for 72 months on all Hellcat versions of the 2020 Charger and Challenger. Given that the power-packed cars are often excluded from financing deals, shoppers may find now to be an excellent time to buy. However, there are some important trade-offs worth knowing about.
0% APR deals on Hellcats are pretty unusual. Previously, there were no financing deals to speak of apart from an offer of 0% for 36 months on non-SRT styles. Compared to a 6-year loan at 5%, our analysis finds that the latest offer introduced yesterday can translate to well over $11,000 in savings on a $70,000 car.
However, that's not the whole story. According to a bulletin sent to dealers, the promotion is considered a standalone offer that can't be combined with other incentives. Unfortunately, that small bit of fine print means having to give up as much as a $7,970 rebate in the case of the 797 hp Challenger SRT Redeye.
For about a year now, Dodge has been offering a "$10 per horsepower" discount on Chargers and Challengers. The promo has often ranked among the largest discounts on any car. That said, this month's financing deal is limited to Hellcat styles and 0% APR continues to be limited to 36 months on other configurations.
Depending on your priorities, 0% APR can potentially lower your total cost on a Hellcat and offer a lower payment to boot. On a $72,000 car, opting for the $7,970 rebate would cost approximately $74,246 at $1,031/month based on 5% APR before taxes & fees. With 0% APR, the cost would be $72,000 at $1,000/month.
That's an advantage of over $2,200 in favor of low-interest financing. But is it really a better deal for everyone? That depends.
First, Hellcats are the only styles eligible for the APR deal and you'll need top-tier credit to qualify. If you manage to secure a better rate than the above scenario involving 5% APR, you may arrive at a different conclusion. As always, the prospect of negative equity on a long-term auto loan should not be taken lightly.
Although cheap leases can be a great alternative for some vehicles, Hellcats have never been great to lease. Poor residual values and incentives skewed toward buying have generally made leases a lackluster value. As a result, Labor Day shoppers may want to take a serious look at financing their purchase.
Current offers end September 30.
Clarification: SRT versions of the 2020 Dodge Durango and Jeep Grand Cherokee are not eligible for the new APR deal.