Dodge will drop its high-performance Hellcat models by 2023, based on a recent report. Fortunately, our analysis of recent Dodge incentives finds that there could be ways to score a deal on a Hellcat now before they're gone forever. If you can avoid a dealer markup due to the chip shortage, now could be a good time to buy.
According to Motor Authority, Dodge CEO Tim Kuniskis stated "There's two more years to buy a Hellcat, then it's history." Currently, there are three Dodge models bearing that name, the Charger, Challenger, and Durango. Having said that, the SRT Durango will reportedly be sold for a single year and will not make it to 2022.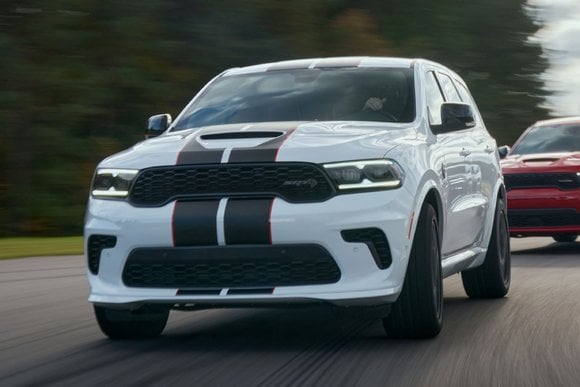 Fortunately, a closer look finds that most Hellcat cars are eligible for incentives. For example, the 2021 Challenger Hellcat offers 0% APR for 72 months, a long-running sale we consider to be a better value than an alternative involving a $2,000 rebate. Through November 30, the Charger Hellcat has the exact same deals.
Things aren't so rosy when it comes to the limited-production Durango Hellcat. Here, the best interest rate deal through Chrysler Capital is 2.58% for 60 months. Interestingly, opting for the standard Durango SRT does offer interest-free financing for 72 months. Sadly, stepping down to the SRT does have a big drawback.
In terms of output, the Hellcat is rated at 710 horsepower compared to "just" 475 in the Durango SRT. Having said that, the SRT may offer a way to get more SUV for your money. That's because the rate on the Hellcat would entail around $6,600 in interest on a 6-year loan whereas the normal SRT has interest-free financing.