Nissan offers 84-month financing on a variety of vehicles, but your options of getting a rate as low as 0% APR could be limited if you don't have top-tier credit. With fewer incentives amid an inventory shortage, your best bet for a seven-year loan could be when taking advantage of non-promotional offers called Standard Rates.
Nissan has presented some long loan term offers in the past, even as low as 0% APR to qualifying customers. However, the best deals are currently limited to shorter loan terms. Usually, when Nissan offers to finance a vehicle for 84 months, it's on select models – for example, the full-size Armada SUV and Titan truck.
According to a dealer incentive bulletin, Nissan is currently offering borrowers with Tier 1 to Tier 3 credit 3.9% APR for 84 months on the Armada, Titan, and Titan XD. Since Titan and Armada vehicles tend to be rather expensive, stretching out your loan term might help you to more easily afford your monthly payment.
With a higher APR, you're not likely to see much in the way of overall savings. For example, a new 2022 Nissan Armada has an MSRP of $50,395, and if you finance it for 84 months, you're looking at a payment of around $690 a month. You're also paying over $7,000 in interest making the total cost for the vehicle around $57,668.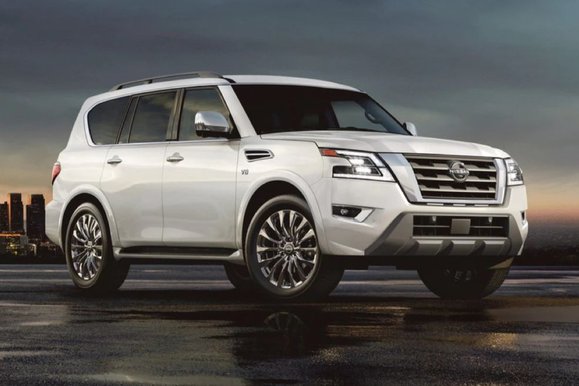 The plus side is that you're looking at a much lower payment each month than if you were to finance the vehicle for a shorter amount of time. If you don't see an advertised APR deal, ask your local dealer about so-called Standard Rates. For example, Nissan Motor Acceptance Corp (NMAC) is offering non-promotional rates as low as 4.24% for 84 months in some parts of the country. Even all-new vehicles like the 2022 Frontier are eligible.
However, to qualify for these rates, you'll need to finance through NMAC and have a credit score around 700 or higher, which is tier 3 level credit – tier 1 typically starts at a score of 740+, tier 2 at 720+. If your heart is set on a Nissan, but you need to stretch out your loan term to afford your monthly payments, you may want to reconsider if you're interested in overall savings. At the standard rate of 4.24%, you're looking at almost $1,000 more interest charges than the example above.
Another way to get the Nissan you're seeking, without paying interest charges on the whole thing, is to lease a new Nissan. Leasing can offer lower monthly payments and a lower cost overall if you qualify since you're only paying for the time you drive the vehicle. Standard leases are typically two to three years long and can have an advantage over buying with a standard APR. To see which deals are right for you visit your local Nissan dealer.
Top Nissan Lease Deals & Rebates
Pictured: 2022 Nissan Titan (Top), 2022 Nissan Armada (Middle)