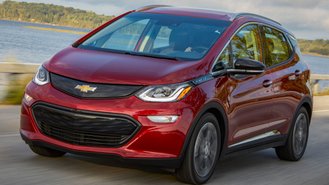 Deals on EVs, plug-ins, and hybrids appear to be taking a backseat to conventional gas models ahead of Earth Day. Even with every brand offering deals amidst COVID-19, our analysis finds that the best deals largely benefit gas-guzzling SUVs & trucks.
For example, Nissan may be offering 0% APR for 84 months, but the deal is limited to two of its biggest gas-guzzlers, the 2019 Frontier and Titan. Fuel economy ratings for standard versions come in at 19 mpg and 18 mpg, respectively.
Sadly, discounts on the 2020 Chevy Bolt EV are worth less now that GM Supplier Pricing was quietly taken away in April. Whereas well-equipped styles used to offer nearly $10,000 in savings, current offers are now worth $8,500.
Meanwhile, GM is offering 0% APR for 84 months and Sign & Drive leases on vehicles like the 2020 Chevy Equinox and GMC Sierra. Similarly, Hyundai is offering 0% APR for 84 months on select models but excludes the 2020 Kona Electric.
Other factors could increase the cost of your next EV or plug-in.
In the Golden State, changes implemented late last year have resulted in some very big differences in eligibility for the California Clean Vehicle Rebate (CVRP). First, the amount was lowered $500 to $1,000 for PHEVs and $2,000 for EVs.
Next, the incentive no longer covers vehicles with an MSRP over $60,000 like the futuristic Audi e-tron. Plug-in hybrids must also be capable of at least 35 miles, which excludes every plug-in from Volvo and the Mitsubishi Outlander PHEV.
It's also worth noting that the $7,500 federal tax credit on EVs has been completely phased out on all Teslas plus the Chevy Bolt. That said, there are still deals to be had if you know where to look. Here are some examples.
The 2020 Hyundai Ioniq Electric remains the cheapest EV you can lease at $249 for 36 months with $2,500 at signing here in California before state & local incentives. In New York, you can even lease one from just $209 with $2,199 at signing.
For a family-friendly alternative, the 2020 Chrysler Pacifica Hybrid (a plug-in) is eligible for Employee Pricing plus 0% APR for 60 months and no payments for 90 days. However, leases are pretty awful with an effective cost of nearly $560/month.
Not looking to take the plunge on an EV or plug-in? On the West Coast, our analysis finds that the 2020 Hyundai Elantra is capable of up to 41 mpg and ranks as the cheapest car you can lease, with an effective cost of just over $200/month.