Thanks to advances in technology and a generous mix of plug-in incentives, EVs are making a strong case for consumers. However, if "range anxiety" is giving you doubts, you may be surprised to learn that EVs with the longest range can offer over 500 miles of driving on a single charge.
We've put together a quick rundown of EVs with the longest range in 2022. The figures listed below are based on either the EPA's website or those of the manufacturer. Since pricing and specs can vary depending on configuration, be sure to check out our vehicle research pages for details.
Updated July 18, 2022
What Brands Have The Longest EV Range?
At the moment, Tesla continues to make EVs with the best range. The downside is that you'll often have to select a more expensive configuration. For example, the Model S is currently capable of 405 miles but starts at around $90,000 at that specification.
Shoppers may want to consider what's available when it comes to charging speed. For example, Tesla invested in its own network of "Superchargers" that offer charging stations on popular routes across the United States with faster speeds than what most drivers would be able to get otherwise.
Do EVs Qualify For Incentives?
Yes! A federal tax credit worth up to $7,500 can lower the cost to buy an EV. However, since it isn't a rebate, you may not experience the savings until it comes time to file your taxes. Due to a set cap based on sales figures, Tesla and GM EVs no longer qualify for the credit.
Fortunately, state & local incentives can help. For example, the California Clean Vehicle Rebate (CVRP) offers $2,000 in savings on qualifying EVs. While there is an MSRP cap of $60,000, a number of electric car models are still eligible. In addition, the California Clean Fuel Reward offers an extra $750.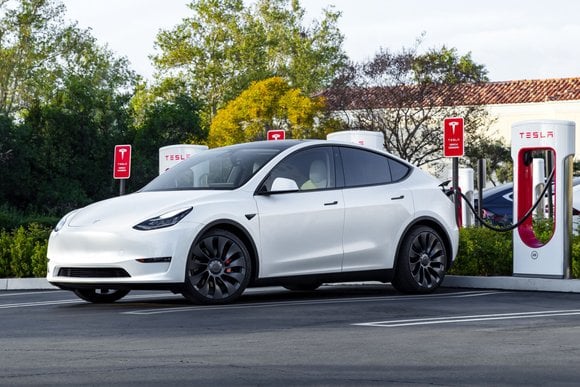 Ford and Hyundai have made enormous strides in making long-range electric cars more attainable. For example, the Mustang Mach-E California Route 1 Edition offers up to 305 miles of range and is eligible for up to $11,000 in savings when factoring a federal EV tax credit and state plug-in rebates.
Manufacturer incentives usually change monthly, but our ranking of the Best EV, PHEV, and Hybrid Car deals can help you make an informed decision. We also track dozens of advertised lease deals. In some cases, these can actually be among the cheapest cars you can lease.
Is It A Good Time To Buy An EV?
Thanks to incentives, there can be remarkable deals on 100% electric vehicles. For example, Nissan introduced an $89/month lease deal on the 2022 LEAF. In addition, Polestar announced a $14,000 price cut on the futuristic 2022 Polestar 2 all-electric luxury sedan.
Having said all that, a slew of new EVs are on the horizon, such as the 2022 GMC HUMMER EV and Ford F-150 Lightning. As a result, the next several years should be an exciting time with more choices than ever before. Gone are the times when electric cars were limited to tiny cars with around 80 miles of range.
Sadly, a global chip shortage is resulting in higher car prices and longer waits. Most recently, Tesla increased prices by up to $10,000, and the cheapest Tesla model is now more expensive than it was before. Be sure to consider all your options if you're looking to buy an EV with the longest range amid high gas prices.