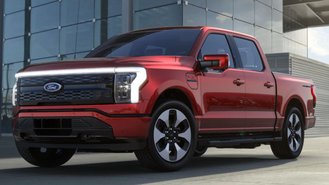 The monthly payment for buying the 2022 Ford F-150 Lightning could be more expensive than you think. Ford's online payment estimator now shows us what the all-new electric pickup could cost when financing. However, there are some key details worth knowing about if you're estimating the payment on an F-150 Lightning.
Ford Credit offers 24 to 72-month financing options on the F-150 Lightning at non-promotional rates. Unlike the Mustang Mach-E, the truck won't debut with a 0% APR deal. That could change, but for now, Ford's first EV truck has a standard rate of 5% APR. Here are Ford's estimated payments on the Lightning Pro:
24-month loan: $1,829/month
36-month loan: $1,249/month
48-month loan: $960/month
60-month loan: $787/month
72-month loan: $672/month
Here, the assumptions are based on an MSRP of $41,669 including destination with no money down. Putting money down on an F-150 Lightning could lower your monthly payment. For example, 10% down ($4,167) on the F-150 Lightning Pro could cause the payment on a 72-month loan to fall to as little as $604/month.
Real-world prices will likely be different. First, Ford's estimates don't include taxes & fees. There may also be dealer markups. The payments are also for the Lightning Pro marketed toward businesses. In contrast, the F-150 Lightning XLT with zero money down has a payment range of between $881 and $2,399/month.
It's also important to know that Ford's estimates don't include a $7,500 tax credit. While this isn't a rebate that lowers your upfront costs, its value should be factored into your decision if you're eligible for it. Plug-in rebates like the $2,000 California Clean Vehicle Rebate and $750 Clean Fuel Reward aren't included, either.
Alternatively, Ford Options Plan could offer a lease-like alternative. With the Mach-E, the program can be cheaper than leasing. Ford hasn't published F-150 Lightning lease payments, but we think it's highly likely that, like the Mach-E, Ford may choose to keep the tax credit rather than pass it along to lessees.