Leases have a habit of attracting buyers focused on low monthly payments. While it's true that some SUVs can be smarter to lease, getting to a payment under $150 a month practically always come with some kind of catch. Here's a prime example we're seeing just down the street at a local Volkswagen dealer.
This month, the 2019 Tiguan S is being advertised at just $129 a month before taxes & fees (see below screenshot). To put that in perspective, Volkswagen's official website (pictured further down) lists the same vehicle at $199 a month. So what gives? How is the dealer able to advertise a price that's $70/month less expensive?
It's all in the fine print.

First, the dealer's lease is for a 24-month term with an allowance of just 7,500 miles per year. It also requires "$2,999 down". In contrast, the offer from Volkswagen is for 39 months with 10,000 miles per year and $2,999 due at signing. Here's where things get really confusing.
Vehicles tend to have higher residual values on shorter leases. Upping the mileage allowance also lowers the vehicle's value when you turn it in, resulting in a higher cost for you to lease. Looking to adjust some of the numbers to fit your driving habits? Expect your price to change, too.
But that's not all. The dealer also requires "$2,999 down," while Volkswagen requires $2,999 "due at signing." Those may sound similar, but when VW says it, it reflects a down payment of $2,125, a $675 acquisition fee, and your first month's payment. With the dealer's offer, there's zero explanation.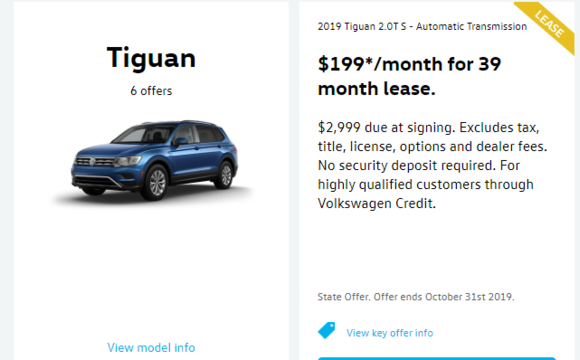 Even if you acknowledge that the dealer's offer will probably cost more than it appears, there's also the fact that the ad says they only have 1 vehicle available at that price. That's out of a total of 47 Tiguan listings online at the time of this writing.
The conclusion? Based on our analyses of monthly offers from every major automaker, SUVs under $150 are essentially impossible to find without a catch. In some instances, offers at that price may include discounts you may not be eligible for, like highly-specific loyalty programs and even employee discounts.
As always, we recommend reading any fine print very carefully. When there isn't any fine print to speak of, ask. You may save yourself time and frustration before heading off to the dealer. Alternatively, you can see the effective cost of over 300 leases each month on our website.