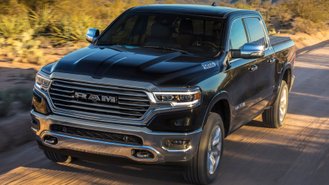 Fiat Chrysler Automobiles is offering an unusually good Employee Pricing promo ahead of Black Friday. Marketed as "Employee Pricing Plus," the deal enables consumers to combine the brand's employee discount with other incentives like rebates, finance offers, and lease deals.
According to a bulletin sent to dealers, the employee discount equates to 5% less than the dealer invoice price plus a $200 program fee. In the case of a 2019 Dodge Durango R/T (MSRP $44,245), this translates to an immediate discount of $3,611 without having to haggle.
But that's not all. Since the offer can be combined with rebates (in this case worth $4,600), the model's combined savings can be as high as $8,211. Thinking of taking home a new RAM 1500? Opting for a 4x4 Big Horn truck can equate to over $10,000 in savings.
Having said all that, there are some catches worth knowing about.
First, not every model is eligible. For example, Dodge Challengers still tout a separate "$10 per horsepower" offer and are excluded. As part of that promotion, shoppers can save up to $7,970 off the price of a 797-horsepower Hellcat Redeye.
Next, hot sellers like the Jeep Wrangler and all-new Gladiator pickup aren't eligible either. The promo is also focused exclusively on 2019 inventory, which means you'll have to make use of other offers if you prefer to bring home the latest vehicle.
Here's a full list of models eligible for Employee Pricing For All:
Dodge: Grand Caravan, Durango (includes SRT)
Chrysler: Pacifica (excl. Hybrid)
Jeep: Renegade, Compass, Cherokee, and Grand Cherokee (excludes SRT/Trackhawk)
RAM: 1500 Classic, 1500 (redesign), 2500, 3500
Current offers are set to end December 2.