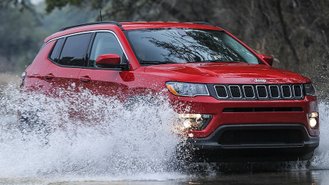 Buying a Chrysler, Dodge, or Jeep just got a lot more affordable ahead of the Labor Day holiday. As of yesterday, Chrysler Capital is now offering 0% APR for 84 months in some parts of the country. However, our analysis finds there are some serious limitations worth knowing about before heading to your local dealer.
First, not every model is eligible and offers can substantially vary by region. In the Western U.S. (but curiously not California), a dealer bulletin reveals that 7-year, interest-free loans are available on the 2020 Chrysler Pacifica (gas/hybrid), Dodge Grand Caravan and Journey, and Jeep Renegade, Compass, and Cherokee models.
That said, APR deals in other parts of the country involving zero interest are often limited to 72 months. That's still a pretty good deal in the case of vehicles excluded from the above list. For example, the 2020 Jeep Grand Cherokee continues to feature 0% APR for 72 months in many regions, the same deal we saw for July Fourth.
Here in Southern California, some offers are oriented around a "15% off MSRP" deal on select models. For example, a $30,000 Jeep Compass offers up to $4,500 in potential savings. However, the fact that the savings will vary depending on a vehicle's configuration could put diminish some of the offer's potential appeal.
Unfortunately, the absence of better deals on vehicles like the RAM 1500, Jeep Wrangler, and Gladiator could make some buyers think twice about buying for Labor Day. We could see changes closer to the holiday, but for now, we recommend that shoppers check local offers carefully because not all deals may be great deals.
Current offers end August 31. Be sure to follow CarsDirect's ongoing Labor Day deal coverage for possible updates.