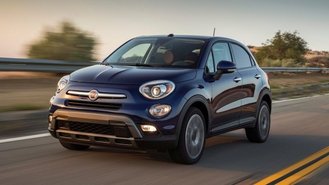 If you're shopping for a small crossover, chances are you've seen advertisements for the FIAT 500X over the past several months. However, although the car was advertised, its launch was delayed due to software issues. There's good news, though- the new crossover finally started arriving at dealerships last week. Even better, there are already a handful of deals to attract shoppers. Here's what you need to know.
New competitor, sort of
The small crossover segment is getting really interesting. Choices like the Chevrolet Trax, Buick Encore and Honda HR-V have been a hit with shoppers who prefer the driving position of an SUV with the fuel efficiency and ease of driving normally found on small cars.
The 500X shares its platform with the Jeep Renegade that has been on sale for weeks. Though similar, the Renegade has more headroom and a lower base price starting at $18,990 including destination. Be careful of that low price though- it doesn't come with air conditioning without paying extra.
Deal overview
This month's finance deal on the 500X is 0.9% APR for 36 months. If you opt for a 60-month term, the rate is 2.9%. This is the same deal you'll find on the Jeep Renegade. The deals are set to expire June 30 but will likely continue next month.
You can also lease a 500X Pop with automatic transmission from $249 per month for 36 months and $2,999 due at signing. However, as far as lease deals go, this is far from great considering the large amount due at signing.
The best deals from Fiat typically involve thousands in rebates (the 500 hatchback has a $2,250 discount right now). You'll probably need to wait a few months before seeing cash offers on the 500X. It's a good bet they'll come eventually- the brand's incentive spending is reportedly up 92% this year.
Side-by-side: top small crossovers>>
Our take
In some ways the 500X is meant to succeed where the less-popular 500L failed- by offering a practical and appealing alternative to the traditional hatchback. Initial reviews have been solid, but it remains to be seen if it will be a hit with U.S. shoppers.
If you've been waiting for a small crossover with a practical and surprisingly attractive design, the 500X might be right for you. A pair of deals this month give you some options for buying now, but the best deals may be in the months ahead.
Get your price on the FIAT 500X>>
Looking for the best way to keep track of purchase and lease deals? Check out our CarsDirect Pricing Insider and Deals Articles pages for tips and advice on picking the right time to buy or lease your favorite car or truck.
Incentives listed here assume a Southern California location and exclude tax, license, and dealer fees. Offers can be subject to change, so be sure to check with your CarsDirect Trusted Dealer to confirm eligibility.