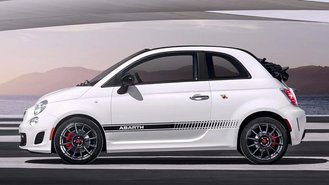 If you're looking for an economical car with Italian flavor, it's likely that Fiat has a car for you. Although Fiat Chrysler as a whole has been posting record profits, the Fiat brand continues to struggle. Reports corroborate what we've already been seeing- the brand is spending record amounts to sell new cars. Here's what you need to know.
Struggling
In a way, it should be no surprise Fiat incentives are getting better. The brand sold 17% fewer cars last month compared with the previous year, according to data from Automotive News.
Inventory data tells a similar story- Fiat 500 cars have an estimated 145 days of supply in May, up from 110 last month. The segment average is 67 days.
Editors' Picks: Top budget cars>>
Betting on something new
The automaker is betting big on the all-new 2016 500X because of the red-hot compact crossover segment. However, cars aren't coming fast enough- we're already into May and cars haven't arrived yet. Meanwhile, Honda is gearing up to sell the all-new HR-V and Mazda will be releasing the CX-3 this summer.
Leading with discounts
Deals are getting better to stimulate sales. According to the National Automobile Dealers Association, Fiat incentive spending is up 92% this year. Fiat models consistently make our top-five rankings for the best discounts on hatchbacks and convertibles.
The 2014 500L currently has rebates worth up to 27% off MSRP, and that's before dealer discounts. Deals aren't just on older cars, too- the next-best deal after the 500L is an 18% discount off the 2015 500 worth up to $3,250.
Get a local quote on the Fiat 500L>>
Why this is unusual
If we were talking about another segment, such as trucks, thousands in discounts wouldn't be a rare thing. What makes the offers from Fiat unusual is that the cars carry such low MSRPs by comparison.
Don't assume sporty Abarth models are somehow an exception- they often qualify for the same discounts. This is in contrast to the car's initial debut when we saw prices at or above MSRP.
Confirm local pricing on the Fiat 500>>
The exception
Oddly, there's only one case in which Fiat incentives became noticeably less-favorable in May. The all-electric 500e is only offered in California and Oregon but consistently ranks as a top green car lease.
However, it was unseated as the best EV deal following a $30 hike in monthly payment this month. A massive price cut and new lease discounts made the 2015 Chevy Spark EV our top pick with a $139 per month, zero-down lease.
See the best green car deals this month>>
Our take
If you're looking for an extreme discount on a hatchback or convertible, Fiat is offering some serious savings. Although competitors offer a lot in terms of features and engineering, few can match current deals from Fiat.
See the best hatchback deals this month>>
Incentives listed here are based on a resident in Southern California. Lease offers are based on top-tier credit and exclude tax, license, title, registration, document fees and insurance. State-level incentives can vary, so please check with your CarsDirect Trusted Dealer to confirm all available offers in your region.
Visit our CarsDirect Pricing Insider page for pricing and deal analyses for over 300 models. Sign up for email alerts to have our analyses delivered straight to your inbox. Browse our Deals Articles for insider info on the latest new car incentives that can save you money.