The 2017 Hyundai Ioniq Hybrid will be arriving soon, offering a new fuel-sipping alternative to vehicles like the Toyota Prius. To help get things started, Hyundai will debut its latest vehicle with a pair of finance and lease deals.
So what are the offer details? Are the deals any good? And how do these incentives compare next to the Kia Niro? Here's what you need to know.
Offers listed here assume a Southern California location unless noted otherwise. Current offers are set to end February 28 but will likely be renewed.
Factory Discounts
Sadly, the Ioniq Hybrid will debut with no standard cash incentives. However, it may simply be a matter of time before rebates are introduced.
For reference, the 2017 Sonata Hybrid currently features $2,000 cash plus a $1,000 bonus for Hyundai owners or anyone coming from a competing brand. That's $3,000 in potential savings.
Interestingly, the Sonata Hybrid's discounts are so big that they help bring real-world prices closer to the realm of the Ioniq Hybrid, which starts at $23,035 with destination.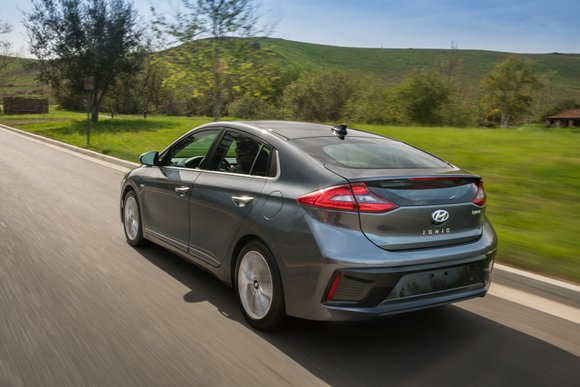 We think there's a good chance that we'll see similar offers for current Hyundai owners and shoppers coming from a competing brand. Since discounts of this nature can range from $500 to as much as $1,500, the additional savings could be worth the wait.
New 0% APR Offer
All versions of the Ioniq Hybrid will get 0% APR for up to 60 months for shoppers with excellent credit. There's even a 72-month extended financing incentive at 1.9% APR.
That's actually quite impressive for a brand-new model. For reference, both the 2017 Kia Niro and 2017 Toyota Prius are available at 0.9% APR for 60 months.
New Lease Deal: $219/mo
The 2017 Ioniq Hybrid will debut with a featured lease of $219 for 36 months with $1,999 due at signing (12,000 miles/year). That will get you the entry-level "Blue" model with an EPA fuel economy rating of 58 mpg overall.
What's interesting is that the Kia Niro LX gets a very similar-sounding lease of $219 for 39 months with the same amount at signing. Comparing effective lease costs, the Niro ends up at $270/month versus $275 with the Ioniq, thanks in part to its longer lease term.
That being said, both rank as pretty mediocre values as far as leases go. The 2017 Toyota Camry Hybrid is only $10/month more to lease than the Ioniq despite having a sticker price that's $4,814 more expensive.
If you're shopping the Ioniq against the Prius, there's a pretty big difference in price. This month's deal on the 2017 Prius Two is $259 for 36 months with $1,999 at signing. That's pretty dreadful given that we've seen Prius leases hit $189/month in the past.
Ioniq vs. Niro
If you're going to lease, the Niro only slightly edges out the Ioniq because of the longer lease term. However, a $5 difference in effective monthly cost between $270 and $275 may not mean a whole lot to most shoppers. Especially if you compare fuel economy figures.
The Ioniq boasts up to 58 mpg overall, slightly ahead of the 56 mpg rating of the 2017 Prius Eco. The Niro, on the other hand, is "only" rated at up to 50 mpg. That said, the Ioniq and Niro are two very different vehicles.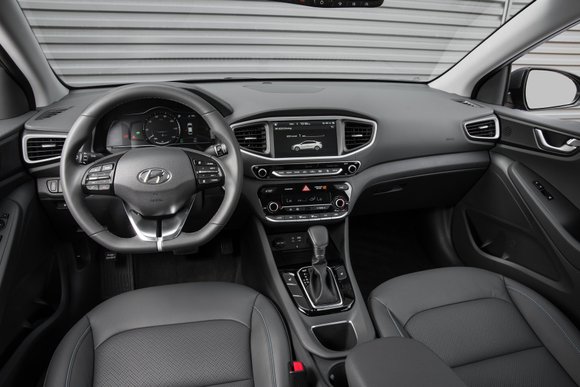 The Niro is marketed as a utility vehicle with a higher ride height akin to a crossover. But the Ioniq actually features more cargo capacity at 26.5 cu. ft. as opposed to 19.4 cu. ft. with the Niro.
If you're going to finance, the Ioniq is a superior deal since you'll be getting 0% APR for 60 months as opposed to 0.9% with the Niro. The Ioniq also starts at $23,035 with destination, slightly lower than the $23,785 MSRP of the Niro. Both are quite a bit lower than the $25,570 MSRP of the 2017 Prius Two.
Both the Ioniq Hybrid and the Niro are potentially appealing choices for anyone shopping for a fuel-efficient car. We recommend test driving both to determine which one will best suit your needs.