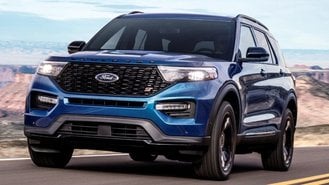 Consumers looking to snatch up the all-new Explorer have a handful of options to consider in July for buying & leasing. Dealer incentive bulletins show the redesigned midsize SUV is eligible for promotional financing rates as low as 2.9% APR, a $750 lease incentive, and unadvertised loyalty discounts.
To start, Ford Credit is offering 2.9% APR for 36 months on all versions of the new Explorer. Buyers also have 48 and 60-month options at 3.9% and 4.9%, respectively. Believe it or not, Ford is even offering an 84-month loan at 8.9% APR for those looking to stretch out their payments.
While there are no rebates yet for purchasing, Ford is offering a $750 discount for leasing. The company is also sending out loyalty discounts worth between $500 and $750 through a direct mail campaign to those currently leasing a Fusion, Edge, Explorer, Expedition, or F-150.
According to Ford's online payment calculator, a 10,500-mile-per-year lease for the 2020 Explorer XLT has an estimated price of $416 for 36 months with $4,193 due at signing. With 10% down, the new Explorer ST is listed at $616/month with $6,200 at signing. The Platinum tops out at $623/month with $6,558 at signing.
Those looking for a deal on the outgoing 2019 Explorer will find up to $4,000 in savings for buying. However, the amount includes a $1,000 bonus for trading-in a vehicle plus a $500 incentive you can only get on inventory that has been in stock for over 61 days.
Current offers end September 3, 2019. Examples listed here are for California.
See all top car & SUV deals in July
Pictured: 2020 Explorer ST