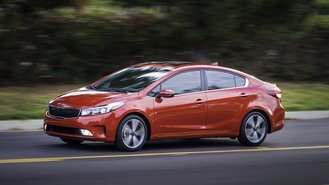 Shoppers in the competitive small car segment now have yet another outstanding choice with the arrival of the 2017 Kia Forte. The completely redesigned car is finally on sale, arriving over 6 months later than its corporate sibling, the Hyundai Elantra.
If you're looking for a deal, there's already a nice array of lease deals, finance offers and cashback incentives from which to choose. Here's a look at current offers, with a comparison with deals on the outgoing 2016 Forte as well as the Elantra.
Choose your deal
The 2017 Forte currently offers a choice between a fairly modest $500 cashback offer or 0.9% financing for 60 months. You can also lease from $159 for 36 months with $1,999 due at signing (12,000 mi/yr).
Alternatively, the 2016 Forte is a pretty stellar deal, with $2,000 cashback or 0% APR for 66 months plus a $1,000 finance bonus. Lease specials are incredibly good right now, with both the LX sedan and hatchback starting from $199 for 36 months with $0 due at signing.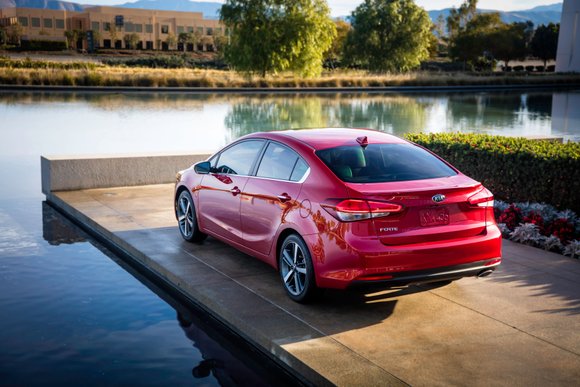 Although most of these offers are competitive in the small car segment, the finance and lease offers on the 2016 Forte really shine. In fact, the lease ranks as one of the best values out of over 400 offers we looked at this month. It also ranks as one of the cheapest lease deals in July. Offers expire September 6.
Consider an alternative
If you're open to considering the 2017 Hyundai Elantra, be aware that offers have been very strong this summer. The car debuted back in January and now features an impressive mix of cashback and finance offers.
Cashback on the Elantra has been boosted to $1,500 this month, with an additional $500 loyalty discount available for current Hyundai owners. Alternatively, Hyundai is offering 0.9% financing for 60 months plus a choice of either no payments for 6 months or a $1,000 bonus.
Our take
Whichever car you choose, there's bound to be a deal you'll love on either the Forte or Elantra. For updated offers, be sure to check out our monthly pricing insights for the Forte and subscribe to email alerts to find out about the latest deals as soon as they're announced.