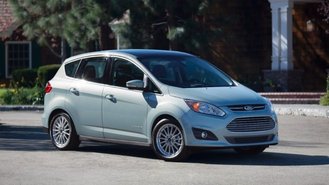 Green car shoppers looking for outstanding value may want to consider the 2014 Ford C-Max Hybrid or C-Max Energi. A rare combination of rebates and special discounts make it the best time of year to snatch one up before they're gone.
Discounting old and new
Ford is making a big push with their hybrids. On one hand, they're adding juicy incentives on outgoing models unlike we've seen before. The automaker is also cutting base MSRPs on future models like the 2016 Fusion Hybrid and Fusion Energi.

With 2014 inventory starting to wind down on these models according to our analysts, now is the best time of year to buy. Here's why.
Head-to-head: Ford C-Max Hybrid vs. Toyota Prius>>
The discounts you see

On the C-Max Hybrid, Ford has an additional $1,000 bonus cash incentive. Not impressed? Consider that there is already $3,500 in available discounts that can be combined on this model. That's up to $4,500 in discounts, or 18% off the base MSRP of the C-Max Hybrid SE. The programs expire March 31, 2015.
Get a quote on a Ford C-Max Hybrid>>

The new discounts on the C-Max Energi are more dramatic. Ford doubled the bonus cash from $2,000 to a whopping $4,000. Factor an additional $1,750 in available discounts and that's $5,750 or 17.7% off the base MSRP on a C-Max Energi SEL.

Looking for more savings? On the Energi, there's also up to a $4,007 Federal tax credit and $1,500 Clean Vehicle Rebate in California. If you treated all potential savings as a percentage off MSRP, that's 34.7% before dealer discounts.

Not enough incentive? California drivers can also hop in and out of the carpool lane thanks to an additional 15,000 HOV lane stickers that became available January 1.

Get a quote on a Ford C-Max Energi>>

The discounts you don't see
What you may not know is that Ford released up to $1,000 in so-called dealer cash to help clear remaining 2014 inventory on the C-Max Hybrid and C-Max Energi.

Dealers can choose to keep that cash or pass it along to shoppers. We suspect most dealers will pass it along to be competitive. Ford generally uses dealer cash sparingly, so this is unusual. The program expires March 2, 2015.
See all the biggest discounts>>
Looking for more insider tips on prices and deals? Check out our CarsDirect Pricing Insider page for analyses on over 300 models. Sign up for email alerts to have the latest insights delivered to your inbox each month.

Programs can sometimes change without notice. Always be sure to check with your CarsDirect Trusted Dealer to confirm eligibility.