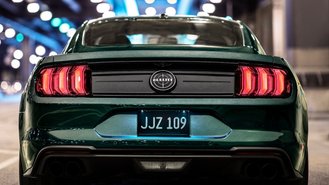 Ford has ramped-up deals on the 2019 Mustang once again ahead of Black Friday. While we've already reported on discounts as high as $4,250, a bulletin sent to dealers shows the brand is now combining a trade-in bonus with 0% financing, as well as hidden discounts on the Mustang Bullitt.
As of November 14, consumers trading-in a 1995 or newer vehicle will be eligible for a $1,000 trade-in bonus in most parts of the country. In places like Detroit, the deal is worth as much as $2,000. Our analysis finds the offer is designed to be combined with this month's stellar financing offer.
Ford already offers 0% APR for 72 months on most Mustangs. In addition to being one of the best deals we've seen to date, we consider this one of the best financing deals on any car. With up to a $2,000 bonus up for grabs, those looking to buy will find November a particularly good time to make their move.
Shoppers who've been pining for a Bullitt Edition Mustang have some good news as well.
You won't see it advertised on TV or online, but Ford is giving dealers up to $3,500 in dealer cash to help lower prices and clear remaining inventory. Given that the Bullitt is generally excluded from offers and suffers from a $1,200 price increase for 2020, we think buyers will find now an excellent time to buy. Bullitt Mustangs are only available with a manual transmission and start at $47,690, over $11,000 more than the cheapest Mustang GT.
Ford is clearly taking an aggressive approach to selling every 2019 model it can as soon as it can. For Black Friday, a dealer incentive bulletin shows the brand is offering 20% off MSRP on most models, although details remain scant on the automaker's website. Based on what we typically see around holidays, we think even better incentives could be in store on some models closer to Black Friday, particularly in terms of leases.
Follow our ongoing Black Friday deal coverage for the latest updates.