Those looking to buy the new Ford Bronco Raptor should expect to experience significant dealer markups. Although we're still several months away from Ford beginning to take orders for the burly off-road SUV, early dealer feedback may point to the likelihood of Bronco Raptor markups of at least $25,000 over MSRP.
Earlier this week, the 2022 Bronco Raptor was unveiled as a limited-production version of the popular Ford Bronco with an MSRP starting at $70,000. However, your odds of scoring the SUV at that price will depend on a given dealer's allocation and the degree to which they've decided to implement a market adjustment.
According to a salesperson at Galpin Ford — one of the highest-volume Ford dealers — the 2022 Bronco Raptor will have "at least" a $25,000 markup. While that's merely an estimate since the dealership hasn't received their initial allocation figures, it's worth noting that this is already their current markup on in-stock Broncos.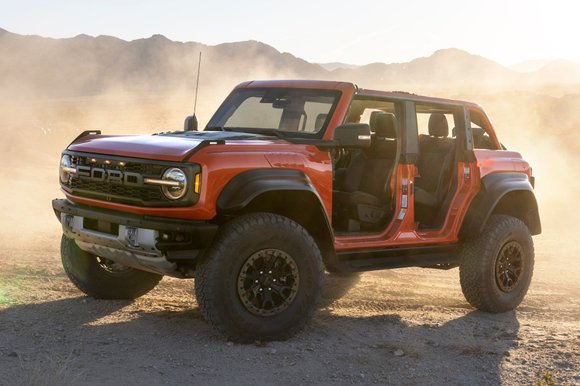 While there can be ways to avoid a dealer markup, it may be close to impossible to buy a Bronco Raptor at MSRP. For now, it's likely that most dealers haven't decided on final pricing. On the forum Bronco6g.com, users are already sharing markup info and speculating on markups ranging between $10,000 to $80,000.
The salesperson we spoke with at Galpin said it was unlikely that Bronco Raptor markups could reach $35,000 to $40,000. Given the fact that real-world pricing will depend on actual allocations and dealers are free to set their own pricing based on market demand, Bronco Raptor markups may be a foregone conclusion.
At this point, it remains to be seen what type of reaction Bronco Raptor markups could spark from Ford. Just recently, GM reportedly chastised certain dealers for charging prices well above MSRP. With a $25,000 markup, a base-model Raptor would cost $95,000. Still, this could be a price some buyers will be willing to pay.
As CarsDirect reported recently, Ford Broncos are excluded from a special order discount. If you had an order on a 2021 Bronco that was never built, it's also worth knowing that the Bronco Raptor is excluded from a price protection deal. As a result, there may be no good solution for getting a deal on the all-new SUV.