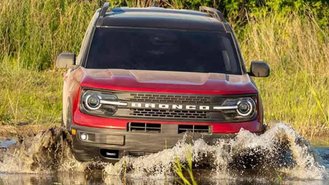 If you're looking to buy a 2021 Ford Bronco Sport, you may find yourself paying at or above MSRP. Due to strong demand, the all-new SUV is seeing dealer markups as high as $10,000 in some parts of the U.S. That's in contrast to the fact that Ford began offering the model's first cash discount just earlier this month.
In perhaps the most extreme case, a dealer in Novato, CA has at least three Bronco Sports advertised with $10,000 markups. Two of the SUVs are lower-end Big Bend trims that certainly aren't priced at the low-end with asking prices of over $40,000. The highest-priced model is the well-equipped Badlands trim at $46,250.
At that price, the vehicle is pricier than a 2021 Jeep Wrangler Unlimited Rubicon (MSRP $45,370). If that wasn't a big enough of a pill to swallow, the fine print states that the dealer's prices reflect a recently introduced $500 rebate. In the case of the Badlands model (below), that means the "actual" selling price is $46,750.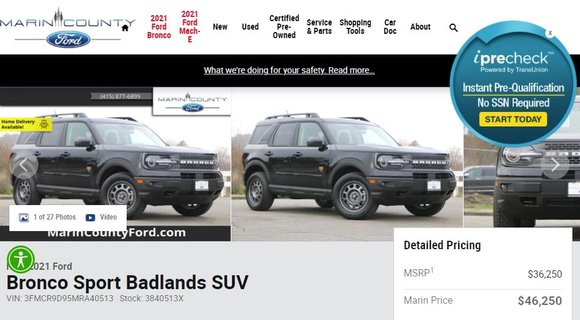 The same quirk applies to the myriad of listings we're seeing advertising Bronco Sport prices "under MSRP." While that could create a sense of psychological victory for buyers, you'll often find that a price listed at $500 under MSRP just means that the dealer is selling the car at sticker with no additional dealer discount.
While the rules of supply and demand should come as no surprise to experienced shoppers, there's often very little transparency online when it comes to markups. For example, a dealer in Orlando, Florida is listing a top-of-the-line First Edition trim at $44,655 but with no straightforward mention of the vehicle's MSRP.
That said, pulling the window sticker from the dealer's own website shows that the MSRP is $39,655. That's a difference of $5,000. To be fair, most dealers aren't asking for $5,000 or even $10,000 markups. But the fact that the car is seeing strong demand could mean high prices despite a handful of incentives.
As we reported earlier this week, January marks the introduction of the Bronco Sport's first-ever rebate. Although it's worth just $500 at this point, it can be stacked with 0% APR for 48 months when financing through Ford Credit. That could help lessen the sting of markups compounded by a recent price increase.
We recommend shopping around and considering the fact that the Bronco Sport's popularity may limit your ability to get a discount. Given what we're seeing at this point in time, you may end up discovering that simply being able to pay MSRP for a hot seller could be the best deal you can manage to get right now.