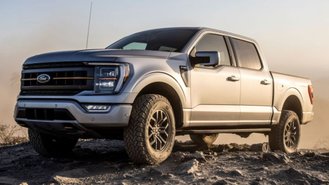 Ford has been hit especially hard by the semiconductor shortage. Just last month, the American automaker cut production of the F-150, Mustang, Bronco Sport, Explorer, and Escape at eight of its North American plants. Obviously, cutting production means that consumers will be waiting a long time for their vehicles. To give consumers some incentive to wait a little longer, Ford is compensating F-Series buyers an Amazon E-Gift Card.
A bulletin sent to dealers Tuesday says, "The Ford F-Series Team is providing a letter template for select customers who are experiencing an extended delay on Retail Orders due to the global semiconductor shortage. The letter includes a special link to redeem a $100 Amazon E-Gift Card to offer appreciation for their patience and loyalty."
Getting a $100 Amazon E-Gift Card on a truck that starts at $30,985 with destination for the base F-150 and goes up to $74,700 seems minimal, but it's better than nothing. It's also more than what other automakers are doing. Affected customers will be able to enter their information at Ford's F-Series Customer Retail Order Program.
At the beginning of June, Ford doubled the value of its incentives on vehicles that are not in stock. Before June, Ford was offering a $500 incentive called the Retail order Incentive Program to give consumers a reason to go through with a purchase to help make up for the lack of inventory at dealerships.
Ford began offering a $1,000 "Retail Order Bonus Cash Certificate" in June that, like all of the brand's incentives, is available until July 6. The F-150 pickup truck is eligible for the discount, as are many of the automaker's other vehicles, though vehicles like the Bronco and Mustang Mach-E are excluded from the incentive.
To adapt to the chip shortage, Ford's Dearborn Truck Plant, which is where the F-150 truck is manufactured, will run two crews for three weeks starting on July 12.