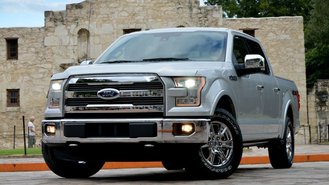 There's no doubt about it, the 2015 F-150 has been on a roll. A weight-saving aluminum body and the latest EcoBoost engines have been a hit. However, if you're a truck shopper, chances are you've seen prices fluctuate a lot over the past month. Ford has been tweaking incentives, canceling offers on posh upper trims. But you can still get a deal if you know where to look. Here's what you need to know.
Supply issues
When it comes to F-150 availability, things could be better. Production issues have been keeping supplies from improving. Ford had to cancel planned factory overtime because of a problem sourcing truck frames.
Dealers in May reportedly had half as many trucks in stock than the same time last year. As a result, F-Series sales fell 9.7% in May, compared with a 17% gain for the truck segment, according to Automotive News.
Side-by-side: Ford King Ranch vs. Chevy High Country vs. RAM Longhorn>>
Offers scaled back
If you're looking for serious luxury, few trucks have what you can get on the F-150 King Ranch and Platinum models. Prices aren't for the faint-of-heart- the King Ranch SuperCrew starts at $50,080 while the Platinum starts at $52,545, both including a $1,195 destination charge.
But if you're looking for a discount, you may be out of luck. Last month, Ford canceled standard rebates on both the King Ranch and Platinum. It should be no surprise more shoppers are choosing to lease or use extended loans to make purchases more affordable.
Learn more about F-150 trim differences>>
On the flip side, deals are looking pretty stable on volume sellers like the XLT. In fact, deals just got better on June 3 when Ford expanded a trade-in bonus to XL models.
Right now, the best deals are on Super Cab or Super Crew versions of the F-150 XL and XLT. Both qualify for up to $1,750 in discounts, factoring a $500 rebate, $750 finance bonus, and $500 trade-in bonus.
Looking for a posher ride? The Lariat is probably your best bet if you're looking for the most manufacturer discounts on the most luxurious trim level.
See deals by trim on the 2015 F-150>>
Our take
Changes we've seen with F-150 incentives reflect what's going on with the model. On one hand, Ford is ensuring its most profitable models stay that way. On the flip side, shoppers can still get a deal on popular sellers. Whether or not the deals last remains to be seen but we'll be watching things carefully.
Get a customized quote on the 2015 F-150>>
Incentives listed here are based on a resident in Southern California. Lease offers are based on top-tier credit and exclude tax, license, title, registration, document fees and insurance. State-level incentives can vary, so please check with your CarsDirect Trusted Dealer to confirm all available offers in your region.
Visit our CarsDirect Pricing Insider page for pricing and deal analyses for over 300 models. Sign up for email alerts to have our analyses delivered straight to your inbox. Browse our Deals Articles for insider info on the latest new car incentives that can save you money.