Ford's recently unveiled 2017 Fusion models are getting a big refresh. Not only is the automaker updating the cars' appearances but they will also be getting the latest technology. Apart from the improvements, Ford is hoping that price cuts on the Fusion Hybrid and Energi Plug-in Hybrid worth up to $1,610 will help improve their value proposition. So what will the changes look like? Is this unusual? And where are the deals? Here's what you need to know.
New pricing
Order guides reveal the 2017 Fusion Energi SE Luxury will start at $33,995 with destination, $780 less than the 2016 model. However, the biggest change is a $1,610 price cut on the Titanium model, which will start at $34,995. A new top-spec Platinum version will start at $41,995 and come standard with the latest safety tech (Full Preview).
Prices for the 2017 Fusion Hybrid will remain mostly unchanged. S and SE models will continue to start at $26,550 and $27,355, respectively. However, the Titanium model will start at $31,885, or $420 less than the 2016 model. The new Platinum variant has been priced at $37,895 (Full Preview).
The new Platinum models are set to push pricing considerably higher than what shoppers saw before. In the case of the Energi, the difference in MSRP for the S and Platinum will stand at $8,000. In the case of the Hybrid, the difference is even larger at $11,345.
History of cuts
While price cuts are generally rare, it's nothing new here. Last year, the automaker cut prices by $900 on both the Fusion Hybrid and Fusion Energi in an effort to boost sales. Prior to that, C-Max Hybrid and Energi prices were cut by $1,200.
Will the cuts improve Ford's position? Possibly. In a way, it makes sense if you consider what the automaker is doing at the higher end of the spectrum with the Platinum models. On one end, lower prices may appeal to shoppers- while added safety tech at the high end is intended to earn the car a coveted top safety rating.
It also makes sense when you consider Toyota recently released a completely redesigned 2016 Prius with a new Eco version capable of 56 mpg in combined city/driving (and at a modest $500 premium over the base Prius Two).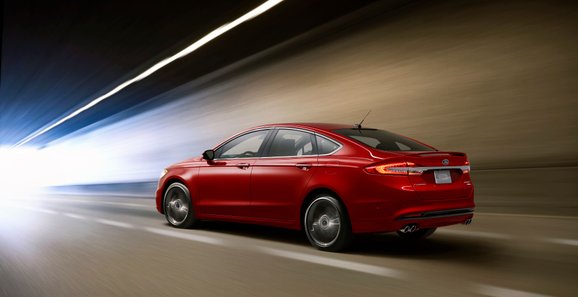 Where are the deals?
While deals for the 2017 model haven't been revealed yet, it's a sure bet that Ford will continue to offer aggressive discounts. In particular, shoppers may want to keep an eye out for aggressive lease offers.
Cash back tends to be fairly mediocre since Ford tends to push finance and lease offers on both models. For example, the 2016 Fusion Energi currently has a modest $1,000 rebate and $450 finance bonus. In contrast, the car gets an impressive $7,007 in discounts for leasing. This month's deal is $199 for 36 months with $3,499 at signing.
However, the best deal is arguably on the 2016 Hybrid SE. You can lease one from $169 for 36 months with $2,719 at signing. With an effective cost of $245 per month, it's $20 per month cheaper to lease than a 2015 Prius Two. And that's despite a $2,100 higher sticker price than the Toyota. As a result, the Fusion Hybrid ranks as the best deal on a hybrid this month.
Our take
While the 2017 model promises to offer the latest and greatest in terms of features and tech, the outgoing model ranks as an outstanding deal, particularly when it comes to leases. If shoppers can afford to wait, the latest version will almost certainly see special offers soon after the cars go on sale this summer.
Editor's Note: Pictures depict the 2017 Fusion V6 Sport since Ford has not yet released imagery of the hybrids.
For an easy way to find the best deals, visit the CarsDirect Deals Page for the latest deal-related news and analyses. Browse expert buying advice updated monthly on nearly 300 models for insider insights you'll only find at CarsDirect. Be sure to sign up for email alerts to have the latest deals delivered straight to your inbox.
Offers listed here are based on a resident in Southern California and may be subject to change. Most lease offers are for well-qualified buyers based on available credit and exclude tax, license, title, registration, document fees and insurance. Not all buyers may qualify. Please check with your CarsDirect Trusted Dealer to confirm details and eligibility.