If you've been waiting for crazy deals on the now-discontinued Ford Fusion, now may be a good time to buy. As of last Friday, the brand's only remaining 4-door sedan is eligible for 0% APR for 84 months here in California. While this may be the best deal we've seen to date, there are some pros & cons worth knowing about.
According to a bulletin sent to dealers, all versions of the 2020 Fusion are eligible for zero-interest financing for up to 84 months. That includes the gas model, the Fusion Hybrid, and Fusion Energi plug-in hybrid. Although production ended last summer, major shopping websites still show well over 10,000 cars on dealer lots.
On a $25,000 car, a 6-year loan at 0% would cost $25,000 at $298/month before taxes & fees. To put that into perspective, Honda's best rate on the 2020 Accord is currently 1.9% for 72 months. On a $25,000 sedan, that would involve nearly $1,500 in interest and a monthly payment of roughly $368/month before taxes & fees.
That's a difference of $70/month. As a result, we consider this one of the best 0% APR deals on a car.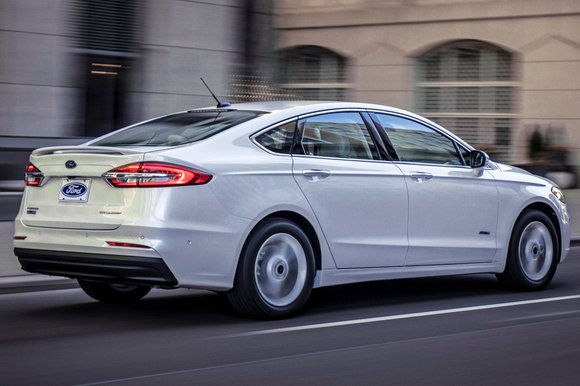 That said, a drawback is that you can't combine the APR with up to $5,000 in rebates ($3,000 for everyone plus $2,000 when trading-in an existing vehicle). In the scenario above, taking the rebates would end up costing $22,529 at $313/month based on a 6-year loan at 4%. Fortunately, we found another alternative.
It may not be obvious based on Ford's website, but another option consists of 0% APR for 72 months plus $2,000 in bonus cash. Here, the total cost would come out to $23,000 at $319/month. If an 84-month loan isn't right for you, taking this route could result in a lower overall cost with a comparable payment.
Plug-in rebates can make the Fusion Energi one of the best deals on a PHEV. Apart from 0% APR for 84 months, those in California can take advantage of a $1,000 Clean Vehicle Rebate plus a new Clean Fuel Reward worth $917. The Energi is now the only PHEV with interest-free financing for 7 years.
Apart from manufacturer incentives, we're seeing signs that dealers are offering very deep discounts of their own. As always, we recommend shopping around to get the best possible price. Under the right circumstances, December could prove to be a good time to buy before the Fusion starts to become hard to find.