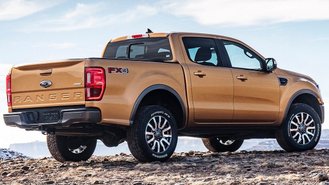 June is shaping up to be a good time to buy a 2019 Ranger thanks to a big increase in discounts. Under the right circumstances, shoppers are in a position to save up to $3,000, an increase of $1,000 compared to last month. Leases are cheaper too, and Ford has loosened its standards for getting 0% APR.
Dealer incentive bulletins show the changes took effect on June 5. The biggest change is a $1,000 bonus for financing with Ford Credit in most parts of the country. Here in California, you can combine it with a $500 rebate and a $1,500 conquest bonus for coming from a competitor. That's $3,000 in savings. But there's a catch.
Program rules state the extra $1,000 is only available on Rangers with Equipment Groups 302A, 500A, 501A, or 502A. To get the advertised deal, our analysis finds that shoppers will have to choose an XLT or Lariat model configured with one of the aforementioned option groups. This can have a big impact on price.
Although the Ranger starts at $25,395 for the XL 4x2 Super Cab, the deal requires stepping up to at least the $29,315 XLT trim. Even then, opting for Equipment Group 302A adds $2,800, bringing the MSRP to $32,115. We suspect some shoppers may not like having to spend more to save more.
Ford is also offering 0% APR for up to 36 months on the oldest Rangers in stock, although you'll have to give up the $500 rebate to get it. There are also 48 and 60-month options at 0.9% and 1.9% APR, respectively. Those planning to buy will likely find the APR more appealing than the $500 discount.
Interestingly, Ford's financing bulletin shows the brand has enabled those with less-than-perfect credit to qualify for the Ranger's best rates. Those with "Tier 4" credit used to be limited to 3.9% APR. Now, the same buyer can get 0% APR. That could go a long way toward improving affordability.
Those planning to lease will find the Ranger more affordable here in California because lease cash has risen to $1,150 (up from $250).
In the case of the Ranger XLT 4x2 SuperCrew, that helps translate to a $30/month cut in price. The truck is now listed at $269 for 36 months with $2,999 at signing, although it should be noted that Ford is including the $1,500 conquest bonus to get to those numbers.
These represent the best deals we've seen since the Ranger's launch. For those able to take advantage of every available offer, we believe June represents an outstanding time to buy as we approach the 4th of July holiday. Current offers end July 1.