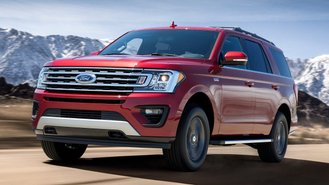 Ford shoppers may notice the automaker is now advertising 20% off much of its lineup. The promo launched yesterday and promises dramatic savings like $10,667 off an F-150 and $12,442 off an Expedition. In the case of the Expedition, that's more than double what Ford offered for Independence Day. However, our analysis finds that the latest offers may prove to be too good to be true.
For example, Ford's 20% discount on the Expedition assumes you're going to purchase an XLT model with all-wheel-drive and an MSRP of $62,140 (sticker prices for the Expedition start at just over $53,000). While the brand is advertising $12,442 in "total estimated savings," most Expeditions are only eligible for $3,500. Here in Los Angeles, all Expeditions benefit from a $2,250 rebate plus a $1,250 bonus.
Things get dicey at this point.
That's because the advertised deal includes a $5,780 Summer Sales Event Bonus you can only get on the XLT model. As in previous months, Ford is also offering an additional $500 on inventory in stock for over 61 days. Finally, the deal includes an "average dealer discount" worth $2,662.
As a result, shoppers may find themselves drawn in by a deal for a vehicle they may not have been planning to buy, that has to have been sitting on the lot for a certain amount of time, and that includes a discount the dealer has no obligation to pass along.
While these are tactics we've seen fairly often from brands like RAM and Chevy, we consider this an unusual move for Ford. Sure, saving a ton of money on a car or truck certainly sounds great, but your results will almost certainly vary considerably.
Even if you're willing to take your chances, not every model is eligible. Popular nameplates like the Ford Mustang and Ranger are both excluded from the 20% off promo, and typical exclusions are in effect for specialty vehicles like the F-150 Raptor.
Offers end September 3.
See this month's top new car deals »