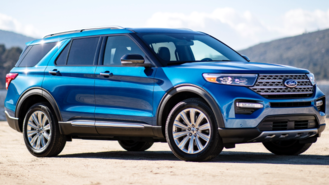 Those in California affected by last week's 7.1-magnitude Ridgecrest earthquake may be eligible for disaster assistance from Ford. According to a bulletin sent to dealers, the automaker is now offering Employee Pricing. This marks the first such offer we've seen from a major automaker since the event took place.
To qualify for the offer, those affected will need to have an insurance claim form showing their name, address, and claim number. The program rules state that those with liability insurance will need to also show a repair estimate. Those eligible will be able to access Ford "A-Plan" pricing plus current offers.
Based on our analysis, there are very few exclusions as far as which models you can apply the discount toward, with key exceptions being the Shelby Mustang and Ford GT. Interestingly, even all-new models like the 2020 Explorer are eligible, as well as the new Escape (which hasn't even been released yet).
Employee Pricing is typically reserved for active and retired full-time employees, as well as certain family members. Based on our past analysis, A-Plan Pricing is generally one of the best discounts the automaker offers, with the added benefit of not requiring any sort of haggling.
If you've been affected by the recent earthquakes in California, we recommend checking with your local dealer for further details. The program is set to expire September 30 along with most of the brand's offers but could be extended.