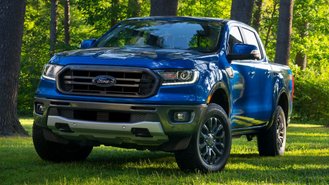 Ford appears to be hoping lower prices will help lure shoppers to the Ranger this month here in California. Up in the Bay Area, the brand's featured lease now matches that of its chief rival, the Toyota Tacoma. However, a closer look reveals some important catches worth being aware of.
As we've seen before, the 2019 Tacoma is listed at just $219 for 36 months with $1,999, one of the better deals at the moment. While the effective cost of this lease is just $275/month, the deal only gets you a relatively stripped-down SR 4x2 Double Cab with 4-cylinder naturally-aspirated engine.
This month, Ford is basically matching that price with a $219/month offer of its own with the same amount due at signing. Here, you'll get a 2019 Ranger XL 4x2 Super Crew with STX Package. However, the deal includes a $2,000 bonus you can only get when trading-in a non-Ford vehicle.
Based on these prices, we consider the Ranger to be the superior value. Our analysis finds that a Ranger with that configuration has an MSRP of over $30,000, getting you a decently-equipped truck with a 270-hp EcoBoost engine. Meanwhile, the offer for the Tacoma merely gets you the 159-hp base engine.
Alternatively, Rangers are eligible for up to $3,000 worth of discounts when buying. There's also a 0% financing option that comes with $2,500 in bonus cash. Both offers include this month's trade-in assistance offer. In the case of a $30,000 truck, our analysis finds that a 5-year loan at 5% would cost $33,968 with the rebate.
With the 0% offer, the same truck would cost $29,500 before applicable taxes & fees. That's an advantage of nearly $4,500 in favor of financing through Ford Credit. Current offers are set to expire September 30.